Post Content
9 Chickweed Lane, 8/10/16

Sooner or later, courtship plots need to resolve. That's no problem if you're writing a book or play – just get your couple to their Big Moment before the final chapter or curtain. But when your TV serial or comic strip is built on romantic or sexual tension and lasts more than a couple years, you've got a problem. Recap Dick and Jane playing footsie for the fortieth time and your audience will start to get restless. But resolve the issue in the customary way and your good thing could end faster than you can say "Season 5 of Northern Exposure."
After fifteen years of footsie, 9 Chickweed Lane finally got protagonists Edda and Amos in bed – technically "on piano" – during an interminable cello competition in 2008. Since then, the strip has dithered around with minor characters, flashbacks, and fantasy sequences, trying to get what it apparently thinks is its groove back.
The solution on offer is to clone the main characters and do the whole damn thing over. So now we've got Piano Amos (shaving in the john there) and Chinese Edda, with exactly the same personalities and hang-ups as the originals, going through the same tired will-they-or-won't-they scenarios. Genius, really – how many instruments are there to rotate through? How many ethnicities to pair them with? How long before Gamelan Amos melts at the sight of Paiute Edda? Tam-tam Amos grovels before Igbo Edda? Bassoon Amos babbles incoherently when a wisp of Pole Edda's hair brushes his face? It could go on forever!
And every so often they can sneak in a beaver joke.
Luann, 8/10/16

Luann's solution to their Brad and Toni problem is to re-create beloved '80's sitcom Three's Company, with TJ in the Suzanne Somers role and Frank DeGroot as the nosy neighbor. Hijinx ahead!
The Crush — Brad and TJ angrily blame Toni for sending them to a nonexistent party, never dreaming that it is the DeGroots' teenage houseguest who wants them out of the way so he can have Toni all to himself!
The Love Diary — TJ is hired to type up the diary of a mystery person, which contains several steamy entries. Mr. DeGroot sees the diary and becomes convinced that TJ is enamored of him!
The Bake-Off — Brad accidentally eats the pie that TJ was entering in a statewide baking competition, then tries to substitute a ringer from the bakery!
Since Three's Company did in fact go on forever – the shame of my generation – there are lots of premium plots like these to choose from. And Brad and Toni can freeze their relationship right where it is, to the relief of everybody.
Pluggers and Family Circus, 8/10/16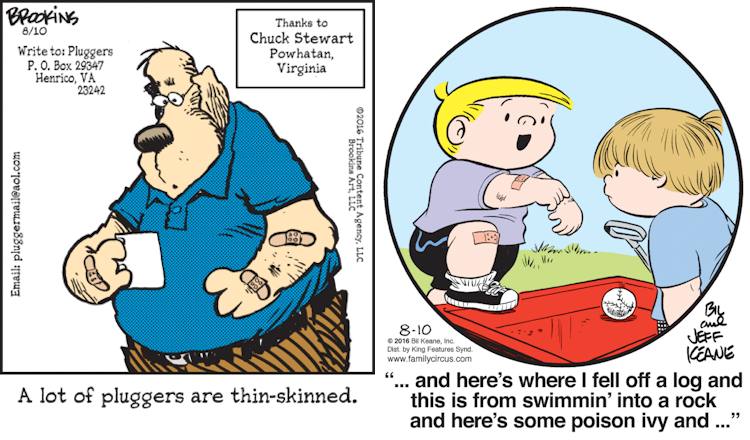 Coincidence? I think not!
–Uncle Lumpy