Post Content
Crock, 6/22/17

I like the black smoke rising in the background of the strip; it implies that Poulet's defeat has had devastating consequences, but gives you room to fill in the blanks about their exact nature. Has some Algerian village been reduced to a smoldering ruin by insurgents because the inhabitants were too accommodating to the foreign occupiers who, when it came down to it, were unable to protect them? Was the Legion's fort overrun by rebels and burned to the ground as a hated symbol of French authority? Are Crock and Poulet standing on the quay in Algiers or Oran, awaiting the boat that will evacuate them to the métropole, watching the city burn in an orgy of retaliatory violence as colonial rule collapses into a nightmarish power vacuum? "I wish life had a backspace key!" Poulet quips, referring to 130 years of brutal conquest and exploitation.
Mary Worth, 6/22/17

Haha, whoops, looks like I was wrong and it's Esme who's going to be tumbling into the wine-dark sea, never to be seen again. This happened because the ship lurched, so Katie didn't even have to make a choice or feel morally responsible! Remember, kids, smoking is bad, and so is attempted adultery, and so is violating workplace regulations about sexual relationships with customers. If you do any of those things, you'll drown, probably!
Family Circus, 6/22/17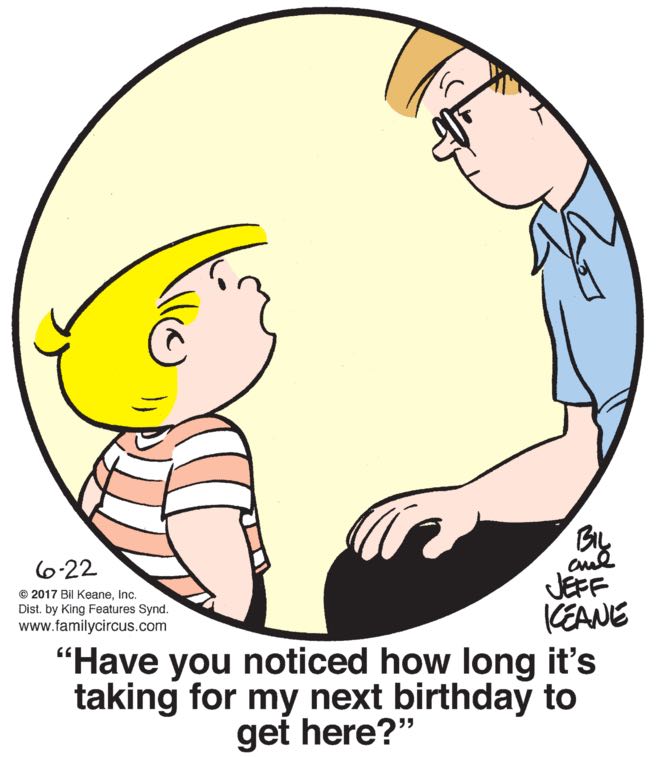 Are you asking if Big Daddy Keane has noticed that the forward progression of time has ground to a halt, and that he's doomed to live an eternity with his children never aging, never growing up and leaving the house, just hanging around and saying the darndest things, forever? Look at his face; I'm pretty sure he's noticed.
Hagar the Horrible, 6/22/17

Ha ha, it's funny because Lucky Eddy thought he was going to die in agony, so he pissed himself!