Post Content
Click the banner to contribute to the Comics Curmudgeon. Details here.

Oh my gosh it's the very last day of the Comics Curmudgeon Fall Fundraiser! Better make that generous contribution right now!
Bizarro, 9/22/17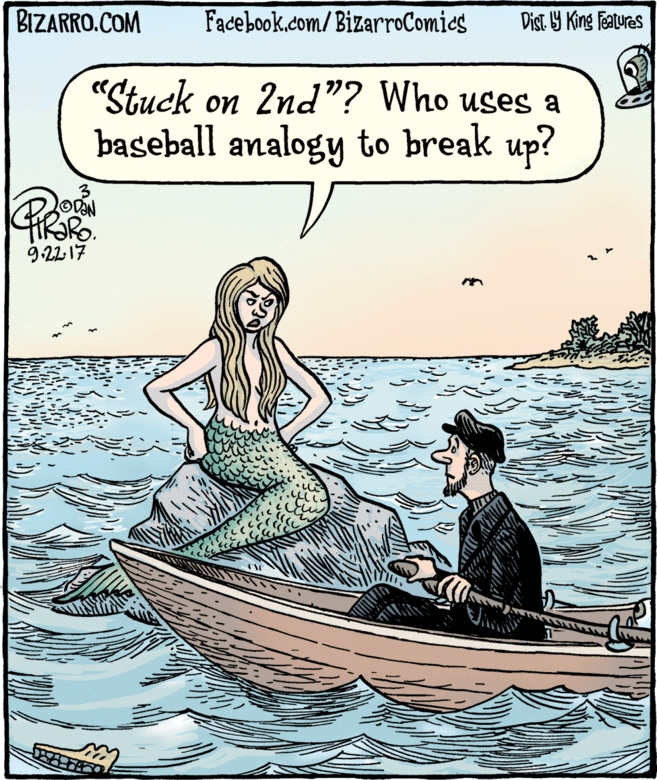 As a matter of policy, the Comics Curmudgeon stands foursquare behind Love, and specifically condemns ichthyophobia in all its forms.
Arctic Circle, 9/22/17

And here is your second newspaper comic mermaid sex joke of the day. Maybe there's something in the water?
Hägar the Horrible, 9/22/17

Hägar and Helga take up residence between the whorehouse and the monastery. Expect to be seeing a lot of Brother Olaf, guys: that guy practices what he preaches.
Spider-Man, 9/22/17

"… I could not stand by and watch you become a murderer. But I'm totally down with watching you shrivel in agony to a desiccated corpse. Out of love! I'm also OK conspiring with Spider-Man to murder you. Um … love!"
Gasoline Alley, 9/22/17

Dick Tracy reads Gasoline Alley twice — once in the paper and once online. He's just that tough!

---
— Uncle Lumpy