Post Content
Pluggers, 10/4/17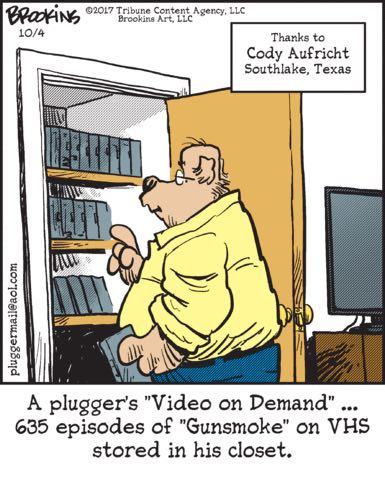 Do you guys know about Just Watch? It's a great site where you can plug in pretty much any movie or TV show you can think of and it'll tell you which of the innumerable streaming and paid download sites out there has it available. (There are probably tons of others, but this is the one I use.) Anyway, I plugged Gunsmoke into it and found…

So I immediately take back all the unkind thoughts I had about Older Dog-Man here. You've hit the jackpot, buddy! Your meticulously catalogued collection of videotapes, kept secured in your locked Gunsmoke Closet,represent a resource more precious than gold in the plugger community. Of curse, videotape is an analog medium, and with each viewing the tape degrades, so you've got to be smart about rationing wholesome Western entertainment. That's why you have to make sure that your fellow pluggers pay a price that reflects both market demand and the irreplaceable nature of the resource before you allow them to sit enraptured and watch 333×480 black-and-white imagery flicker across the flat-screen TV that your nephew, after much coaxing, finally hooked up to your wheezing old VCR. He doesn't get a cut. You sent him $5 for his birthday every year until he turned 18. And you dutifully hit "Record" on the tape machine every night at 11 for years when they still played decent syndicated TV on that UHF channel that's all half-hour commercials for kitchen stuff now. You've earned this.
Lockhorns, 10/4/17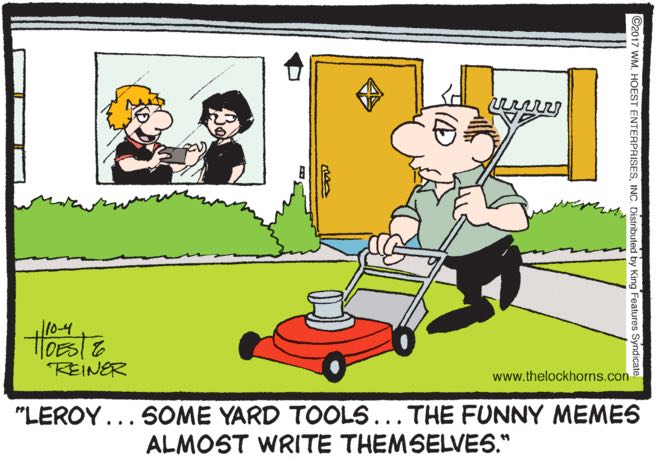 Even see a comic that just seems really stuck in a specific time period, like the Lockhorns with its sort of early-to-mid '60s suburban vibe, and think, "You know, this strip should really get in touch with a more modern set of cultural touchstones if it wants to stay relevant"? Well, be careful what you ask for, is all I'm saying.
Marvin, 10/4/17

Wait, does Marvin's dad think that women … don't use toilets? I can't believe I'm saying this, but it seems this strip has yet to fully explore all of its characters' terrible and wrongheaded ideas about urination and defecation.