Post Content
Marvin, 8/15/18

I honestly neither expect nor require Marvin, a legacy syndicated newspaper comic strip about a baby who poops a lot, to be up-to-date on current fashion trends, but I do think it's a little awkward that in its attempt to depict a modern-day hipster they've overshot and given him a fashy, the haircut beloved by your more upscale white supremacists these days. Since Miller is the third most common surname for Jews in the United States, it certainly gives a very different reading to "they may not even let you in"!
Spider-Man, 8/15/18

Oh, Kingpin, you think you're going to be some kind of bad-ass real estate criminal, but you've got a lot to learn about branding! The sort of hipster "pioneers" you want to attract in your moves to gentrify Chinatown will be positively thrilled to live above the alley where MJ Parker's first husband was brutally murdered by a Chinese gang. Then, five years later, once MJ has been married to a fellow celebrity more suited to her current lifestyle, you jack up the rent by $1,000 a month and then the finance industry people move in.
Mary Worth, 8/15/18

This is definitely one way for Tommy to gently explain to Brandy that he has no plans to put out any time soon.
Pluggers, 8/15/18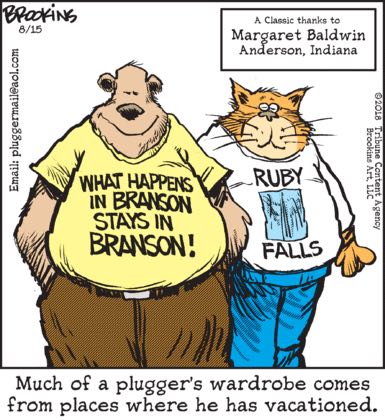 Sure, it makes sense that Branson, Missouri, is ground zero for the plugger orgy scene, but I for one could've gone my whole life in happy ignorance of this fact.