Post Content
Spider-Man, 11/12/18

So in the last couple of weeks, the guest stars of both the last Newspaper Spider-Man plotline and of the one just getting under way today both had their Netflix shows cancelled over the past month, which raises an important question: is Newspaper Spider-Man the hell to which peripheral Marvel characters are condemned if they don't prosper in the marketplace of ideas? Anyway, everything I know about Luke Cage comes from watching the first season of Jessica Jones, and my impression was always that his whole deal was more about his indestructible skin rather than uncontrollable super strength. And really, check out the way that he's delicately holding what I assume is one of those tiny paper cups you get from the dispenser by the water cooler. It's his way of saying "I didn't have to knock this door off its hinges, but, you know, I decided to knock it off its hinges anyway."
Slylock Fox, 11/12/18

The main thing that concerns me about today's Slylock is what's going to happen to that poor li'l baby ape once Harry and his mom get hauled away in handcuffs thanks to some extremely circumstantial evidence and Slylock's ratiocination. Does animal society have some equivalent of the human foster care system? Or is he just going to be returned to the forest to fend for himself?
The Lockhorns, 11/12/18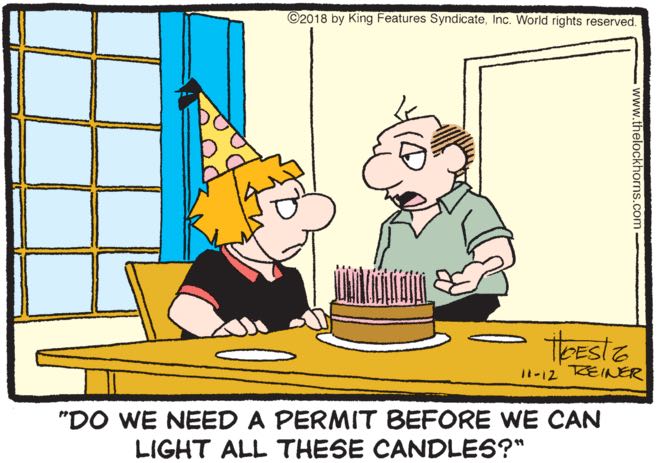 It is, of course, entirely believable that the Lockhorns, having alienated all their friends with their palpable mutual loathing, would end up having a tiny birthday party, just the two of them, for Loretta. But I will never get over the fact that the birthday girl, in a desperate attempt to try to inject a certain sense of fun into this deeply grim occasion, has put on a whimsical party hat, and Leroy stubbornly refused to get on board. He won't even give her this.