Post Content
Mary Worth, 1/14/19

Why, what's this? It seems that the case of the smitten student just got a little more complex. If I'm interpreting that thought balloon correctly, Jannie isn't overcome by lust for Professor Cameron at all, but is rather just buttering him up for her own inscrutable purposes. Is she planning on kidnapping him for ransom? On stealing his organs? On … getting a better grade than her work alone would merit, exactly as Toby suspected all along? Ha ha, isn't everyone going to feel silly when that turns out to be the case! Anyway, this dude is probably her actual boyfriend. You can tell he's more desirable to a young woman than Ian, because he knows about hip new bands like the Rolling Stones.
Gil Thorp, 1/14/19

Oh, man, this Gil Thorp storyline appears to be about how the tyranny of student confidentiality laws are shackling honest adults who need the right to humiliate children in public, to protect their reputation, and I for one am I here for it! In the meantime, please enjoy Kaz aggressively pointing at Gil to drive home his "point" that B/Robby Howry's youthful transgressions are fair game in this PR battle.
Pluggers, 1/14/19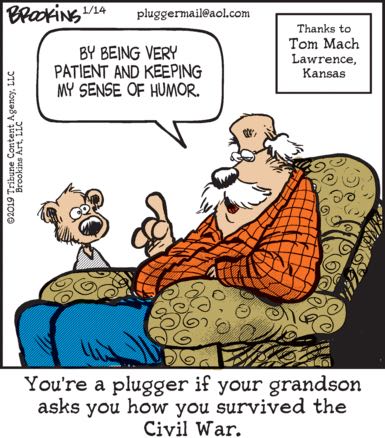 Obviously the joke here is that pluggers have grandchildren who don't have a firm grip on typical human lifespans and/or the dates of major historic events, but I'm choosing to believe that this panel takes place after a future bloody civil war in which pluggers were on the losing side. They believed they'd have an inherent advantage over the big-city types, but it quickly became clear that their ramshackle automobiles and sedentary lifestyles were not the military assets they assumed them to be.