Post Content
Family Circus, 5/17/19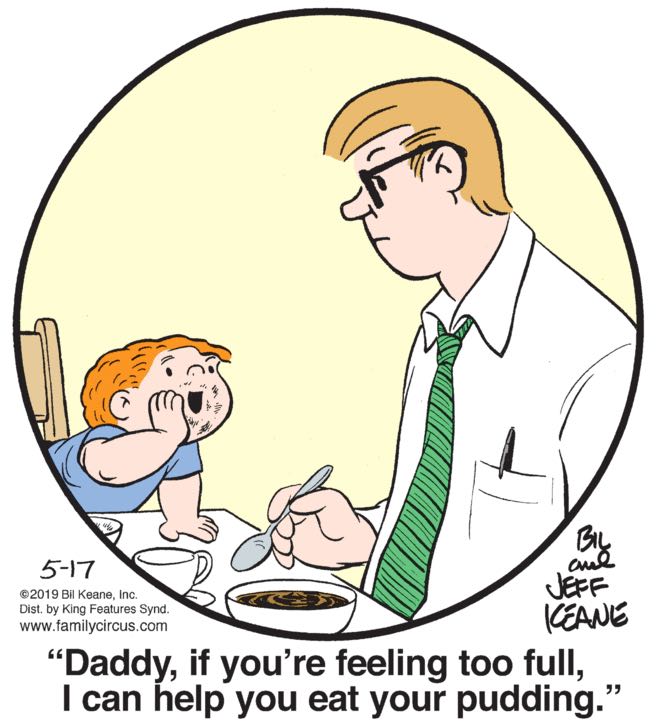 God, I honestly love Big Daddy Keane's whole deal here. He looks beaten down by life, his facial expression numb and his tie just a little loose and disheveled, and mostly what he wants to do is take that spoon he's holding delicately in his big, meaty mitt and just go to town on that enormous bowl of chocolate pudding. Look at all that pudding! That's like a soup bowl's worth of pudding! And it's his due, as the family breadwinner. Jeffy sticking his grubby face into his peripheral vision is just pissing him off. Let the man eat his pudding in peace, Jeffy.
Six Chix, 5/17/19

I also enjoy today's Six Chix, because based on the dialogue you'd expect the speaker to be sort of heavy-lidded and languorous, just dully shoving cookie after cookie into her mouth and barely tasting them, but in fact she's staring at a half-eaten cookie wide-eyed with anxiety, as if she can't fully articulate what mania is causing her to keep eating them. Her boyfriend is asleep, or maybe dead.
Mark Trail, 5/17/19
"Boy, am I glad we found Skull Mountain!" is the sort of thing a guy says, ironically, right before he gets killed by a bunch of spooky, evil skeletons.