Post Content
Dustin, 6/21/19

A big part of Dustin's whole deal is slamming on millennials without really understanding much by way of what millennials' lives are actually like. The strip has made jokes about Instagram and Twitter despite clearly not knowing how either of them work; so I guess it's probably for the best that that it refuses to deal at all with the modern romance scene as facilitated by Tinder and other dating apps (which is, according to literally every standup show I go to, an actual rich mine of comedy that millennials simply can't get enough of). Fortunately the strip has a seemingly endless supply of "guy strikes out trying to pick up chicks at a fern bar" jokes left over from the '80s lying around. Ha ha, it's funny because Dustin says "I was into athletics in college," which is a definitely a phrase a human whose native language is English would use!
Pluggers, 6/21/19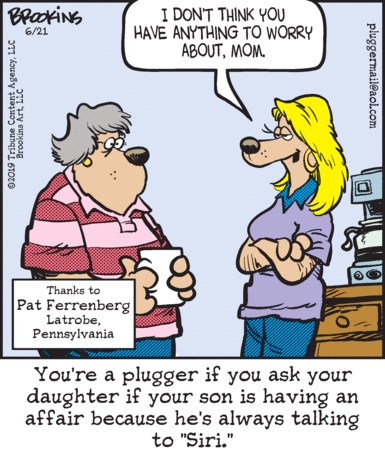 Speaking of millennials and their sex lives, do you ever worry that your mother-in-law thinks you're cheating on your spouse by fucking your phone? Well, today's Pluggers isn't going to set your mind at ease, unfortunately.
Six Chix, 6/21/19

Sure, having noisy upstairs neighbors is annoying. But have these ladies considered maybe getting some furniture that would absorb the sound currently echoing around their vast, entirely empty apartment?