Post Content
Dennis the Menace, 9/21/20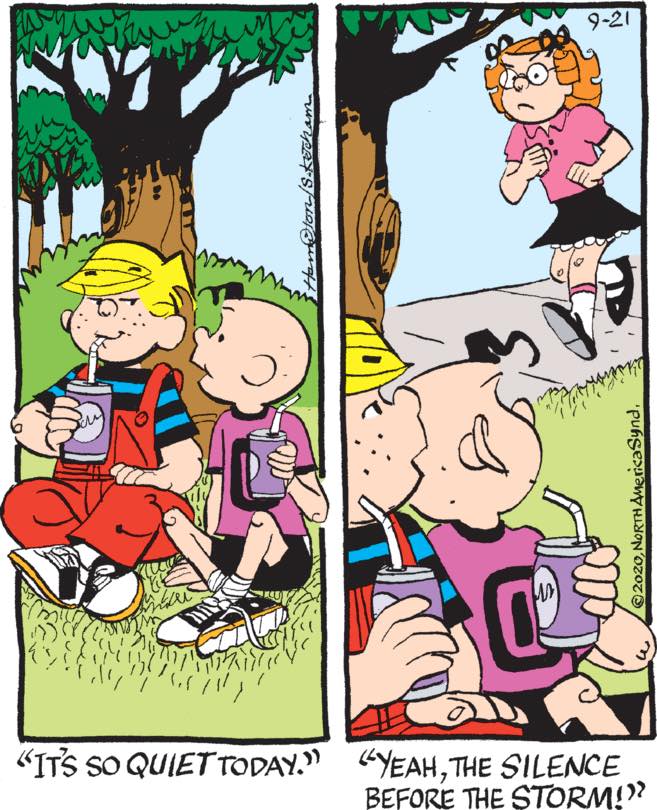 OK, look, Dennis, let's never mind that Margaret doesn't even seem to notice you're there and is heading off on some business of her own. Where on Earth does the phrase "the silence before the storm" comes from? It's not the actual correct phrase and it also doesn't repeat the phrasing Joey used in the first panel. Plus it's not a joke! I'm not even gonna get into the "how menacing is this" shtick right now, I just gotta ask … are you OK, man?
Gasoline Alley, 9/21/20

Meanwhile, these two panels are a real roller coaster, storywise and emotionally! Truly "Ha ha!" is how a congregation would react to a clergyman telling them that today's sermon will be short, followed by "ooh! ah!" and "wow!" when he smoothly segues into "snakes are mentioned in the bible over 20 times," which, folks, I may not be an expert in theological oratory, but if I heard the phrase "snakes are mentioned in the bible over 20 times" at the beginning of a sermon, my first thought would not be "oh, this sermon is going to be short," but rather "ooh! ah! this guy's gonna tell us about all 20 biblical snake references! wow!" And, honestly, I'd be into it. Obviously we start with the serpent in the Adam and Eve story (and I'd love it he could tell us when that guy started being identified with the devil, because in Genesis he gets cursed by God into leglessness as a punishment for leading Eve astray, and it seems weird for all snakes have no legs because of something the devil did), but I do hope he spends some time on the bad-ass brass snake Moses carried around on a pole that he used to cure snakebites.
Sam and Silo, 9/21/20

Sam's (or Silo's? if you think I'm ever going to remember which one of these two is which unless I'm looking directly at a strip where one of them is explicitly addressed by name, you've got another thing coming) cat just want out in the extremely dangerous nighttime, for sex. It's worth it to him! In fact, the possibility he might be mauled to death by a dog just makes the sexual act more intense and erotic! That's the joke today in Sam and Silo, a comic strip published in, I assume, several family newspapers.