Post Content
Mark Trail, 9/22/20

Oh man, Woods and Wildlife editor Bill Ellis is just having a fuckin' meltdown that Mark would even consider tending to his wounded dog instead of flying into New York for the big Conservation Writer of the Year banquet at the Waldorf Astoria. Doesn't Mark know how much is riding on this? The notoriously cutthroat Conservation Writers of America society will just not give you the award if you don't show up in person to accept it, so they'll hand it to the runner-up (some guy from Ranger Rick, probably?) and then Bill, Woods and Wildlife, and their publisher (a disreputable hedge fund that bought the W&W intellectual property at fire sale prices from the Hearst Corporation in 2015) can kiss all those sweet CWotY pageviews and subscription renewals goodbye.
Dick Tracy, 9/22/20

Ha ha, teen girls! This weird professor, who is literally wearing fangs right now, is definitely not into the vampire lifestyle, which he just brought up to see if you were as not into it as he was, even though, as he can't emphasize enough, it's all safe and consensual. Here, read these pamphlets and check out these websites! If your opinions about modern, progressive vampirism change, don't hesitate to get back in touch.
Rex Morgan, M.D., 9/22/20

CONFIDENTIAL TO BUCK: If the lost revenue from your convention circuit sales is offset by the fact that you no longer have to pay the expenses associated with your convention circuit sales, your business may be, to use a technical term, "unprofitable."
CONFIDENTIAL TO MINDY: The idea that someone would be glad to be stuck in the house with Buck is not believable. Is this a hostage situation? Are you in danger? Blink twice if you need help.
Pluggers, 9/22/20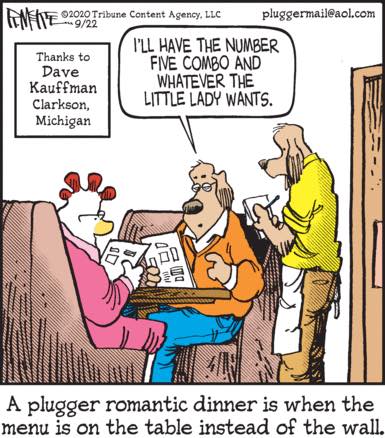 A plugger romantic dinner is when a wife constantly begs to go eat somewhere that isn't fast food, just this once, and her husband finally agrees but he's really passive aggressive about it all evening.