Post Content
Shoe, 11/13/20

I'm honestly not exactly sure, but I'm assuming the punchline here is that the mayor is not, in fact, living the high life thanks to thrift and good financial planning? Usually when Shoe does a joke about a comically corrupt politician, the strip deploys Senator Batson Belfry, but since senators pull down six figures, I guess he wouldn't really work for the joke. But look: do you really believe that Treetops, a town that isn't exactly Hootin' Holler but is definitely depicted as having seen better days, somehow has enough opportunities for graft that its mayor can "live like a multi-millionaire"? I mean, the Perfesser is at this official city government press conference sitting on a crate, and I assume he brought it in from home.
The Lockhorns, 11/13/20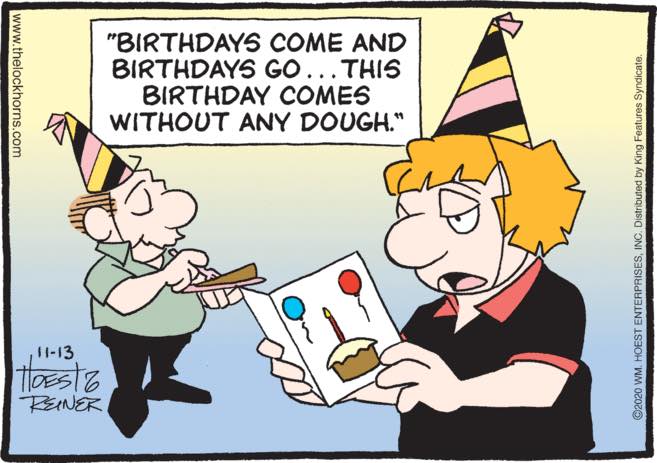 It can be difficult to ascertain the full social context of any given scene in the Mostly Featureless Lockhorns Void, but it really seems like nobody else is as this "party" and that Leroy went to the trouble of getting party hats and a cake just to give Loretta this cruel card. I like that he's stepped a few feet away from her as she reads it, to be sure that he's fully out of her emotional penumbra as the message really hits home.
Anyway, what do you guys think is going on over at Pluggers? I've gotten over that whole chicken leg business, probably they aren't dabbling in body horror anym–
Pluggers, 11/13/20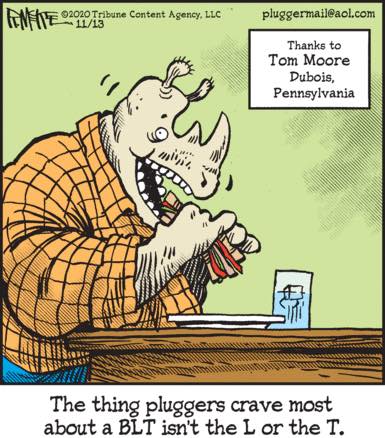 AAAHHH
AAAAAHHHH
AAAAAHHHHH
WHAT IS THAT
WHAT's GOING ON
This can't be right, right? This has to be some weird Pluggers man-animal chimera nightmare bullshit. I'm just gonna Google Image search "rhino teeth" and s–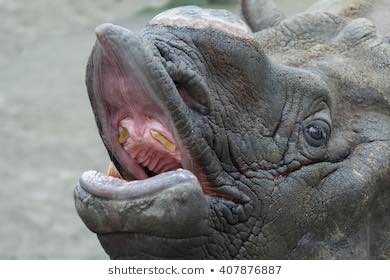 JESUS CHRIST, this is even worse, what the fuck am I even looking at, that can't be right, keep scrolling through the images, there has to b–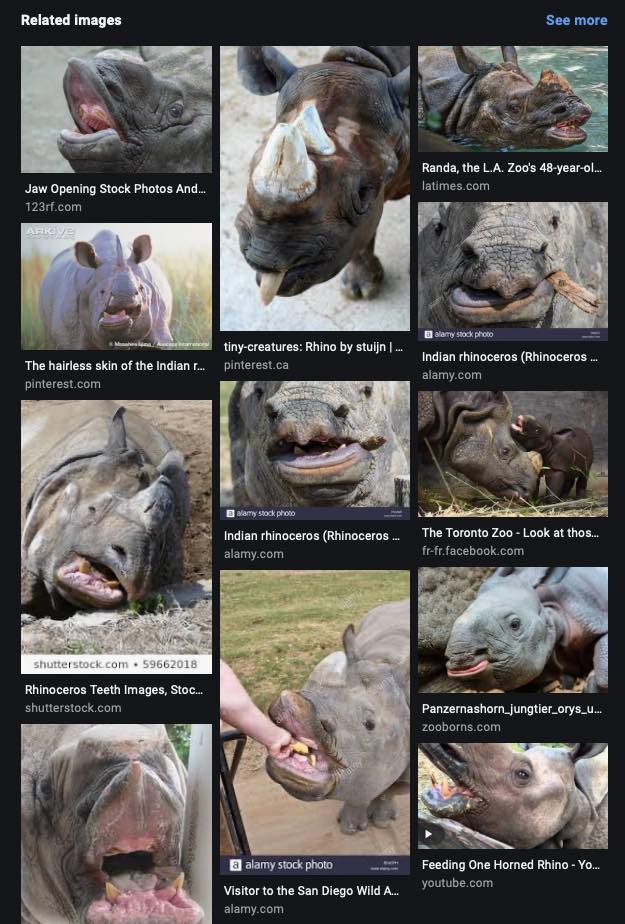 NOOO I HATE IT I HATE ALL OF IT WHAT THE HELL IS HAPPENING