Post Content
Hagar the Horrible and Beetle Bailey, 10/12/20


Hope you had a good weekend, everybody! Hagar and his band of grinning Vikings are going to murder these two in their bed. Sarge, meanwhile, is going to murder Beetle with a tank, though it's not clear if he's going to disintegrate his body by firing an artillery shell at him at point blank range or just crush him to death under the tank treads.
Mark Trail, 10/12/20

In happier news, it's new-look Mark Trail day one, y'all! Wow, just last week Mark was getting a big fat raise just for winning some dumb industry award he didn't even show up to collect, but now he's off in the woods handling snakes and desperately trying to come up with some viral TikTok content that the kids can relate to. Sad!
Gil Thorp, 10/12/20

Oh hell yeah it's another Wing-T storyline!!!! You might remember way back in 2007 when one of the shittiest Milford football teams in living memory sort of threw in the towel halfway threw the season and spent a lot of time practicing the Wing-T, an old-timey trickeration play, in total secrecy, to prepare to unleash it at just the right moment. They did, eventually, and it turned out to be boring and confusing, but whatever, this isn't your father's Wing-T they're practicing now, it's the Delaware Wing-T, which means, uh, there's no taxes on it or something? More on this story as it develops.
Pluggers, 10/12/20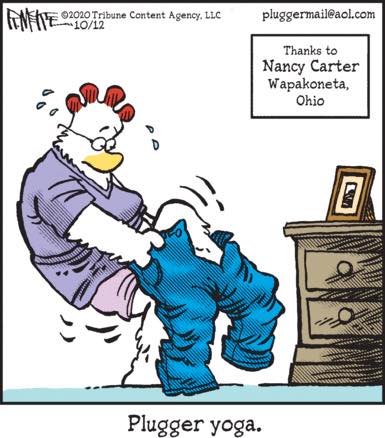 Gotta say, I've been reading Pluggers for more than 15 years and never once in all that time did it occur to me to think about whether the plugger chicken-lady had scaly orange chicken legs under her pants or if she was just basically a humanoid with a chicken head and covered with feathers. But now? Now that I know the answer? I'm going to think about it every God-damned day for the rest of my life.