Post Content
Phantom, 11/3/20

My wife runs a lot of trainings for her job, which have predictably all become virtual trainings over the past six months, and her work sent her a handy little LED ring light to better illuminate her, but her home office is in the living room which gets great natural light and she doesn't really need it, so it's been repurposed for my Zoom comedy shows, which I run from my somewhat darker office. But what if we lived in a cave? What if we lived in a cave deep underground, with no natural light at all, but still had to do video calls for exposition purposes? Well, probably we would just get a normal set of lights that you would put in a house, since clearly the whole place is fully wired for electricity, but why not just set up a single theater-quality spotlight and point it directly at your head from like six feet away? The pros (long, moody shadows) surely outweighs the cons (profuse sweating).
Rex Morgan, M.D., 11/3/20

"Oh, absolutely. Turns out caring for a bunch of sick, dying, highly infectious old people is a real drag. Plus that thing I heard on Facebook about doctors getting a bonus payment for every COVID patient was not true at all, and the CDC was extremely rude about it when I tried to invoice them."
Family Circus, 11/3/20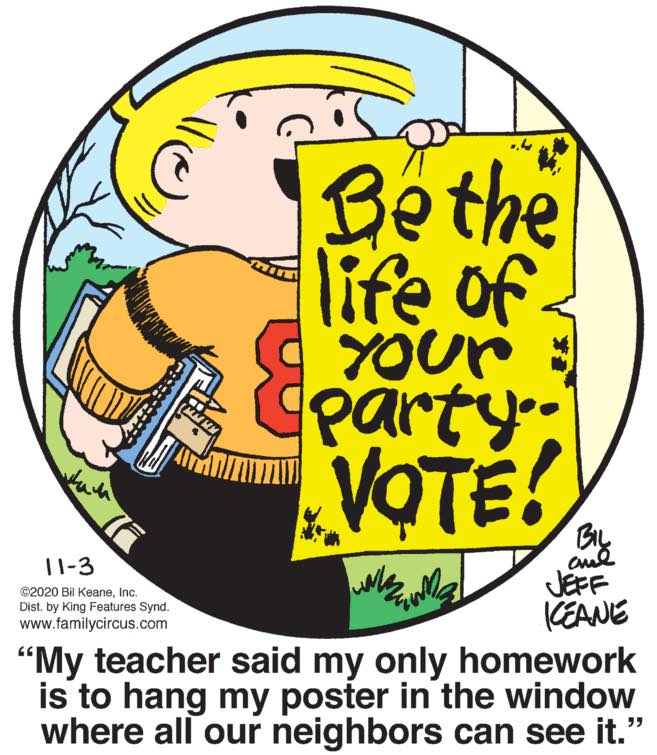 Billy is so full of joy not because he gives a single shit about democracy, but because his teacher gave him such an incredibly easy assignment. What a dope! He's gonna tape that thing up and not learn a damn thing, which is just how he likes it.