Post Content
The Lockhorns, 6/4/21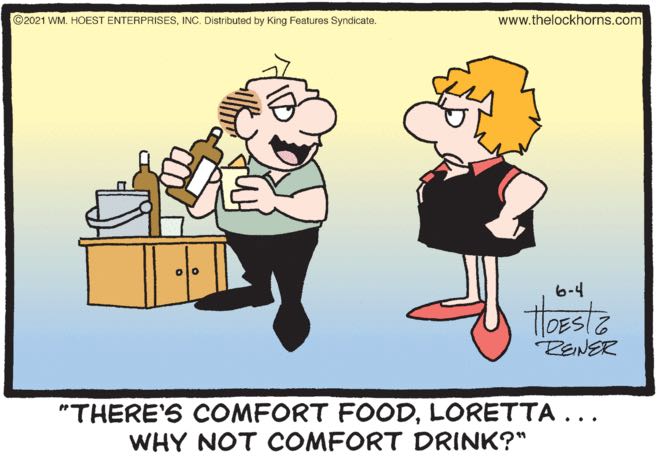 Having done this blog for many years, I can tell you that there is definitely a weekly rhythm to many of the comics. Hopefully if you're a reader of this blog, you are aware of enough comics "inside baseball" knowledge that you know that individual comics aren't each written the day before they're published or anything like that. They're submitted weeks in advance, in Monday-through-Saturday chunks (Sunday strips are submitted separately and have to be sent in even earlier). And while I'm sure most cartoonists don't sit down and power through six comics in one sitting, as you get towards the end of the week you definitely start to get some "I'm almost done with this, fuck it" vibes. I feel strongly that today's Lockhorns, where Leroy assures Loretta that alcoholism is fine, actually, and he's not sure why it gets such a bad rap, fits that bill, and yet (because I contain multitudes) I also think it's pretty great, because sometimes you want that energy on a Friday, you know?
Rex Morgan, M.D., 6/4/21

You know what absolutely has not been phoned in, though? Today's Rex Morgan, M.D. Just a symphony of incredible facial expressions from two guys who know they're not supposed to find their kids incredibly irritating and so they won't say that they're incredibly irritating but they absolutely find all their little antics insufferable and can't wait until they're off at college or whatever. "He can't see the face I'm making, so he probably assumes I actually love my kid, even though every moment I spend with them is a chore," both men are thinking.
Mary Worth, 6/4/21

You know what would really help out Rex and Buck? If there were like a pane of thick, soundproof glass between them and their kids, and there was a phone that ostensibly let you talk to the person on the other side, but the phone wasn't attached to anything, so it didn't work. Ideally it would be the kid on the jail side of the glass, of course.