Post Content
Barney Google and Snuffy Smith, 6/7/22

I assumed that the distant "Newnited States government" to which Hootin' Holler owes vague allegiance long ago dispensed with the archaic trial by jury system, but it seems that they're giving it another go. And who in the Holler is more Snuffy's "peer" than his mirror image, the patriarch of the region's other major clan? Sadly, Snuffy has chosen the worst possible day to bust out this particular defense. He seems to be representing himself, but I don't think he put a lot of though into voir dire.
Hagar the Horrible, 6/7/22

Sad news: Hagar the Horrible, a respected local Viking chieftain, died today of massive third-degree burns all over his body. He is survived by his wife, his two children, and his warrior band, who are currently leaderless and vulnerable to plundering by their opportunistic rivals. He was 48.
Dennis the Menace, 6/7/22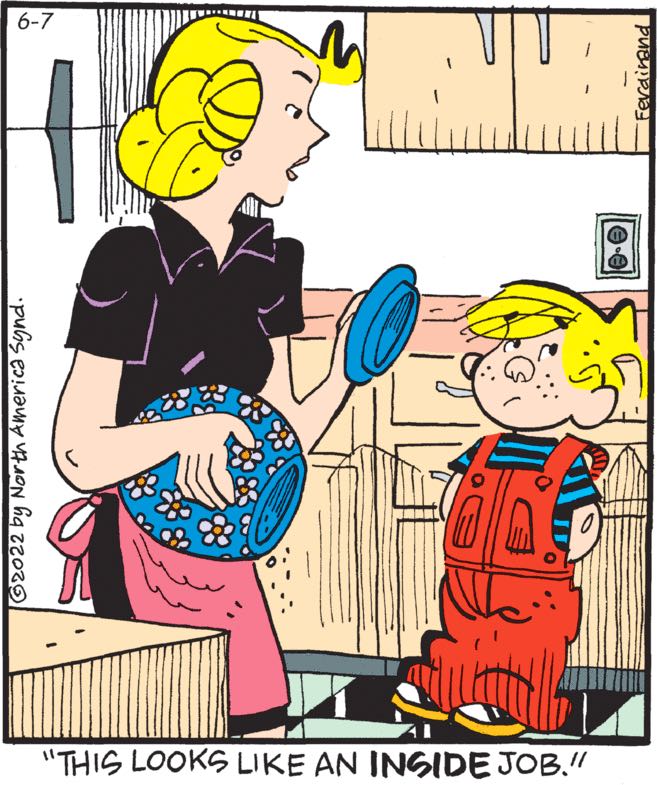 DENNIS DID 9/11
MENACE LEVEL OFF THE CHARTS