Post Content
Blondie, 8/8/22

The non-Dagwood, non-Herb members of Dagwood's carpool are named "Dwitzell" and "Claudia," and any and all attempts to give them inner or indeed outer lives have failed to stick with me, but I do like that Claudia is on the record as not liking the phrase "hot enough for you." Yes, it's hot, but that doesn't mean you have to resort to such vile cliches! To me, she has now become by far the most sympathetic character in the comic strip Blondie, which was actually pretty easy because I honestly couldn't tell you which if any of the other characters I found particularly sympathetic.
Dennis the Menace, 8/8/22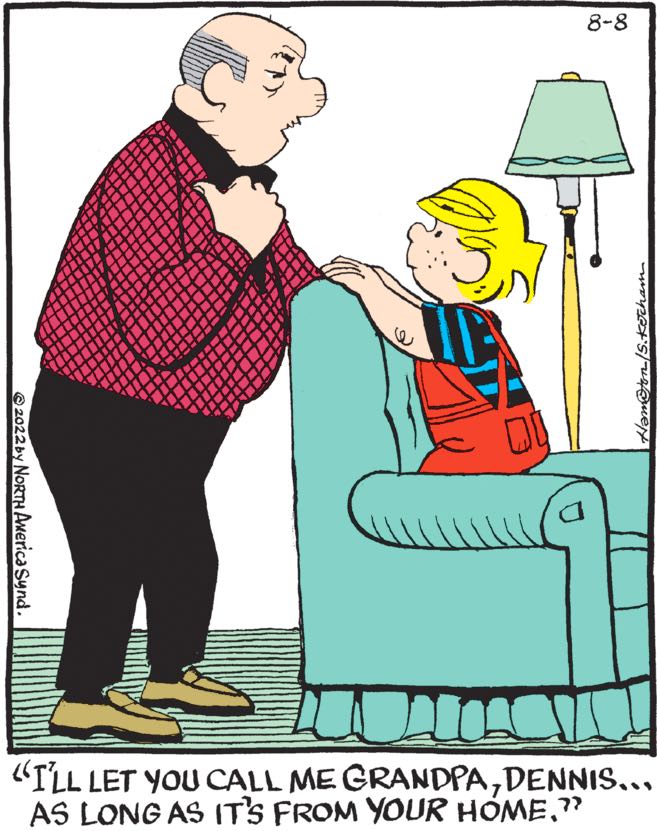 Dennis is trying a real baller menace move here: to destroy Mr. Wilson emotionally by offering up himself — his neighbor's most hated nemesis — as a substitute for the grandchildren the Wilsons never had. It's a swing and a miss, though. George Wilson has never felt affection for another human being and never will! You're the one who's shown weakness here today, Dennis, and you will live to regret it!
Beetle Bailey, 8/8/22

OH MY GOD EVEN DOGS ARE STEALING VALOR NOW, WHAT HAS THIS COUNTRY COME TO