Post Content
Mary Worth, 12/2/22

Now, I'm just a simple country blogger, not a fancy math wizard, but if I'm counting right, Nan is around 12ish years older than Zak, whereas Iris, who has noted that Zak is Tommy's age, is closer to 20 years her beau's senior. We may be on the verge of a spectacle in which a woman feels threatened by the youth and vitality of her fiance's former babysitter, which is a truly amazing sentece to write about an ostensibly dull comic strip like Mary Worth. And where is Tommy's actual mother in all this Oedipal jockeying? I assume she was absent, both physically and emotionally, during his childhood, so if she bothers to show up for the wedding, things could get even more weird and fraught, which is how I like my newspaper soap opera comic strips.
Dennis the Menace, 12/2/22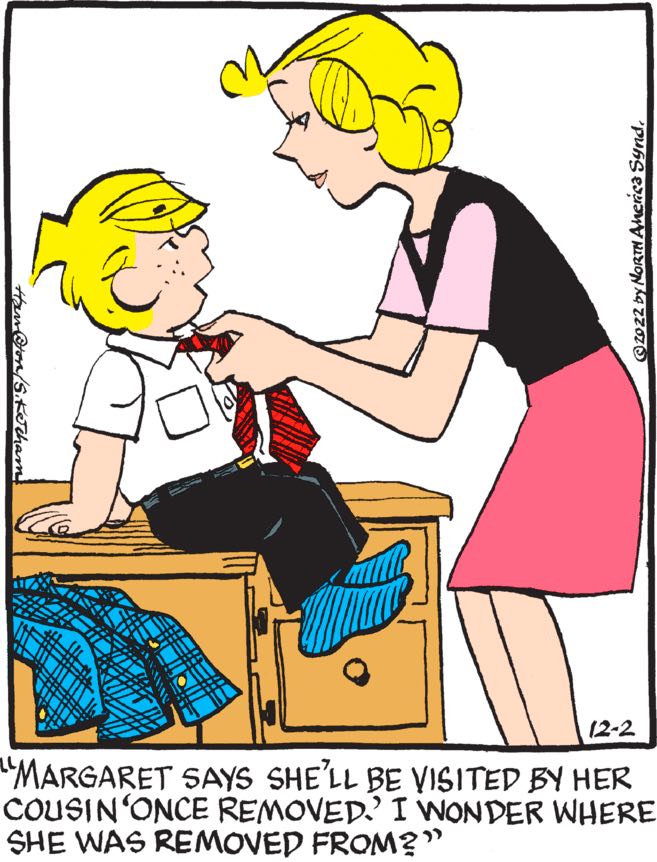 I kind of enjoy the fact that we're getting this limp gag as Alice gets Dennis dressed up in an adorable little suit and tie, even though their conversation is about a different topic entirely. Like, we know they're heading for a fancy dinner with Henry's coworkers where Dennis is going to blurt out something to the effect of "My dad says you're a drunk," but until then we're going to kill time with a little Family Circus style darndest things saying, just as a warmup.
Funky Winkerbean, 12/2/22

Wow, it turns out that the book Summer is going to write will lead to a future where our allegiances to individual nation-states are replaced by a worldwide algorithm-driven form of governance. Sounds dystopian, sure, but probably all memory of Lisa's Story has been purged from humanity's collective consciousness, because Summer's book is the Only Book that the drones of the 22nd century will need, so maybe we shouldn't be too hasty in judging this new age.