Post Content
Gil Thorp, 5/10/23

Still not sure what a "Milford juvenile sports program manager" is or does, but apparently it pays pretty well, enough to get a penthouse at the Gaston (?) Building in Milford's hip, historic warehouse district. Although based on the anecdote we've stumbled into, which involves a teen singing Cab Calloway music, it's possible that Kaz and Gil are just immortal and eternally young and have been coaching youth athletics for at least 80 years, and Kaz might simply derive his riches from decades of compound interest.
Dennis the Menace, 5/10/23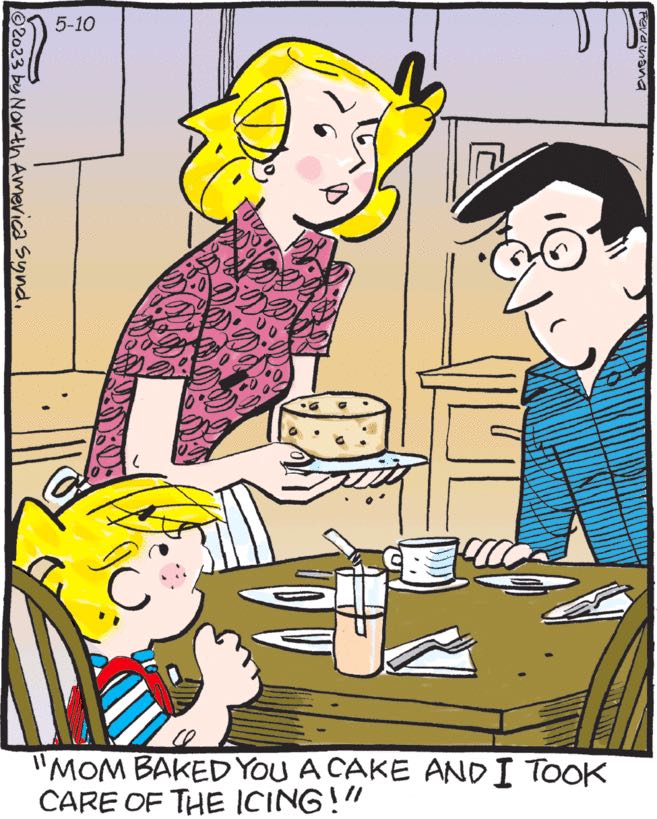 So if I'm interpreting this right, Henry is getting a birthday cake at a "party" attended only by his wife and son, who he sees every day anyway, and his son proclaims that he "took care of the icing!" for a cake that fairly obviously has no icing. The overall bleakness is in fact quite menacing!
Hi and Lois, 5/10/23

In a conference room at Walker-Browne Amalgamated Humor Industries LLC, a grim-faced business analyst is pointing at a PowerPoint slide with a graph on it. One line, labelled Marvin, keeps going up; another, labelled Hi and Lois, is in steady decline. Several of the assembled staff members are weeping openly, but others are clearly resolving themselves to do what they must.
Mary Worth, 5/10/23

Wow, this is quite a large boat that Jeff's purchased, one that could accommodate a good number of passengers. Too bad they don't have any friends! Seriously, who's going to get an invite? Wilbur? Ian? Dr. Jeff's son Dr. Drew lives with him so I'm sure they see quite enough of one another for everyone's tastes. Guess he should've thought of that before he emptied out his 401k just to feel like a big shot for a single moment!