Post Content
Crock, 7/27/23

The thing about ladies' butts is that the societal consensus on their optimal size has waxed and waned over the years: some decades have extolled the skinny, while in other eras big and round has been the way to go. This is a particular dilemma in the universe of Crock. When exactly was this strip published? When is any of the action supposed to be taking place? I don't know and my guess is that the characters don't either, so "compared to what?" is a legitimate question.
Judge Parker, 7/27/23

You and I both knew in our heart of hearts that the newspaper funny pages were never going to show a guy getting torn to pieces by a bear, not even if we've already established that guy as a child kidnapper, so we should appreciate what we do get today, which is seeing his screams of agony coming in from just off-panel. Then, to chill us out a bit, we smash cut to Sophie and Marie watching 2001: A Space Odyssey, I'm pretty sure, but Sophie's not even paying attention because she's looking at her phone. Kids today! With their phones and getting kidnapped by guys who get killed by bears and such!
The Lockhorns, 7/27/23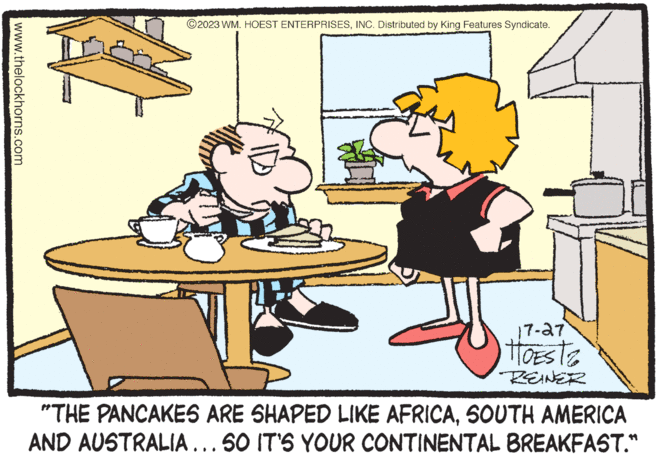 A thing I love about The Lockhorns is that in most panel, no matter what the "joke" is, one or both of the title characters looks like they want to die. Like this is just a dumb and overdone bit of wordplay on "continental," they didn't need to go so hard, but Leroy is looking at those pancakes like he's contemplating whether he can deliberately choke himself to death on them, and I respect that artistic choice so much.
Dennis the Menace, 7/27/23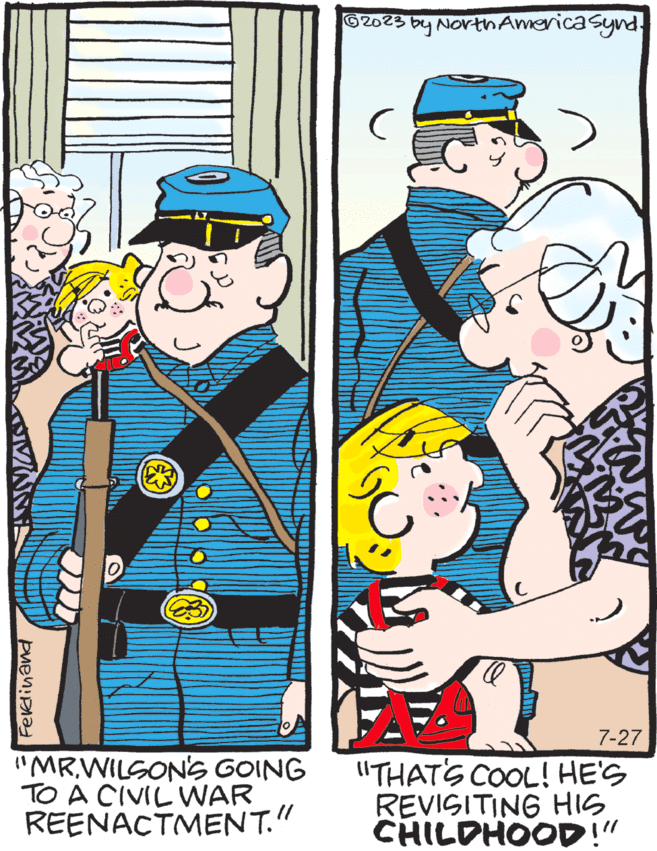 It's true: Mr. Wilson spent much of his tween years as a child soldier in the bloody spasms of civil conflict that wracked the Congo after Belgium pulled its colonial administration out in 1960. The experience has left him with terrible emotional scars that he cannot bring himself to talk about. His outfit today is unrelated.