Post Content
The Phantom, 3/4/06

Here's what you learned, kids: the Phantom is an evil bastard who will mess with your minds. It'll take about five minutes to have that discussion; the rest of the hike will pass in awkward, resentful silence.
And what else have we learned?
Apartment 3-G, 3/4/06

We learned that MARGO MAGEE IS AN UNCONTROLLABLE HUMAN TIME BOMB OF EVIL! SHE IS NOT RESPONSIBLE FOR HER ACTIONS! DON'T TAKE HER ANYWHERE! DON'T LET HER LEAVE THE HOUSE! SHE LEAVES ONLY SHATTERED LIVES IN HER WAKE!
And one more thing we learned:
Panel from Rex Morgan, M.D., 3/4/06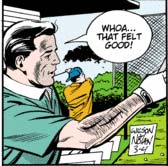 We learned that felt good! But we think you already knew that, Rex.