Post Content
The Phantom, 12/16/06

I'm not going to lie to you: I love love love the Phantom's always awesome NEXT: boxes. They can be by turns catchy and taunting. This particular example raises the intriguing prospect of NEXT: boxes that consider the ancillary details of the situation being portrayed. Like if the big purple guy is secretly hitching a ride on a military helicopter to Rhodia, and we get NEXT: What's the weather like there? Or if the Ghost Who Walks is punching out some ne'er-do-wells as faithful Devil looks on, and we're confronted with NEXT: Heartworms!
This strip is well known for its love of the interrobang, but Denton's administrative assistant is so startled by the sight of President Luaga's muscular assertion of executive authority that she's just plain bangobanging.
Herb and Jamaal, 12/16/06

You know, I've always thought of Herb and Jamaal as, if not B.C.-style theocratic or even Family Circus-style churchy, at least kind of church friendly. That was before today, when we saw that the seemingly friendly Rev. Croom is in fact a money-grubbing charlatan. I look forward to future installments, where the good Reverent is forced into a reparative therapy facility after being caught with a male prostitute and boatload of meth, and his flock mostly turns their back on Christ as a result.
Pluggers, 12/16/06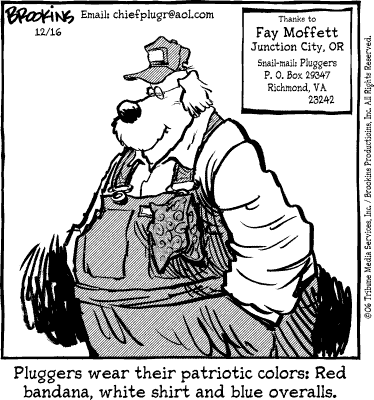 So, pluggers are Bloods, eh? That's it, I'm joining the Crips.