Post Content
B.C., 3/16/07

Ha ha! It's funny because his wife talks a lot, and he's tired of it, even though he presumably knew she talked a lot when he married her, so he's got her tied up in the basement with duct tape over her mouth!
Wait, did I say "funny"? Because I meant "horribly offensive." But see, when he calls her some 19th century term of abuse like "magpie," it's all old-timey, so we can just ignore it. Ha ha, that Johnny Hart! That crusty old hateful bastard! Ha!
Rex Morgan, M.D., 3/16/07

Wait, now hold on just a darn minute. Niki might be pretty good at garage cleaning and such, but there is one — exactly one — person in this neck of the woods who works on fence-related issues. One. And I think we all know who that is: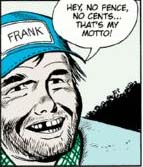 Hopefully, that's him at the door right now, to set things straight and present a grossly inflated estimate.
(Baffled Rex-Morgan-readers-come-lately should check out this classic post.)
Apartment 3-G, 3/16/07

You know what offends me about Apartment 3-G? It's set in New York, right? Now, I don't live there, but I do love the place. It's one of those cities in the world that has a really strong sense of place: if you're there, you know you're there, and nowhere else. Unless, of course, you're in Apartment 3-G, which could take place literally anywhere that's full of tall buildings and white people. The Apartment 3-G girls never take the subway, or a taxi. (Even Neddy and Abbey are taking the Paris Métro, for God's sake.) They never eat at any of the many famous, recognizable restaurants at their disposal. Starving artist Lu Ann never visits any of the world-class art galleries. And Neil is getting great reviews in the "local press." I think the world could handle the name of one or more of the major New York papers, people. You can look them up on the Internet even.
Mark Trail, 3/16/07

YEARRRRGGGHH HUGE SOULLESS TERRIFYING EYES SCARY SCARY SCARY NOOOOOOOO
Mary Worth, 3/16/07

YEARRRRGGGHH MARY INQUIRING ABOUT SOMEBODY'S SEX LIFE SCARY SCARY SCARY NOOOOOOOO