Post Content
The Lockhorns, 3/22/07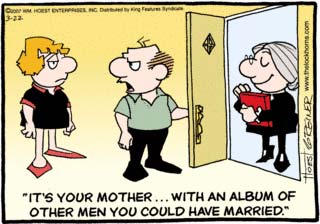 I know this isn't really going out on a limb, since everyone in the Lockhorns (except for the statuesque blondes that Leroy is always drunkenly flirting with at parties) is pretty much the same person except for the clothes and hair, but: doesn't Loretta's mother look exactly like Leroy, except with, um, different clothes and hair? For some reason, their resemblance is especially creepy to me because her hair looks exactly like the wig that Norman wears when he turns into Mother in Psycho. So, even though it's unlikely, what with their both being in the panel here and all, I'd like to believe that Leroy becomes "Mother-in-Law" when his internalized mental anguish forces him to kill. This feature would be better if there were more stabbings, is what I'm trying to get at.
Apartment 3-G, 3/22/07

The thing is, I'm not sure what Margo would find "sweet" — when a man kills for her? — but I'm willing to bet it isn't the kind of mopey, passive-aggressive poor-me game that Gary is playing here. I guess she might think it's "sweet" in the sense of "isn't that sweet, my dopey roommate has attracted someone who's an even bigger loser than she is."
Funky Winkerbean, 3/22/07

GOD DAMN IT, FUNKY WINKERBEAN, WHY IS IT ALWAYS THE DAMN CANCER WITH YOU? CANCER CANCER CANCER! THERE ARE OTHER KILLER DISEASES, YOU KNOW! WHY CAN'T IT BE AIDS? OR EBOLA? GIVE IT A REST WITH THE DAMN CANCER ALREADY? CHRIST!
Judge Parker, 3/22/07

Wow, so this is what it eventually comes to for humanities Ph.D. students? And I thought my occasional stints as a temp doing filing or reception work were beneath my dignity. Looks like I got out of grad school just in time!