Post Content
Stupid real work is forcing me to postpone doing today's comics until tomorrow at some point; however, to show that I love you, my faithful readers, I offer a couple of points of interest.
First, in a comment faithful reader Jed Dougherty pointed us in the direction of some more old-school Mary Worth art. Jed says:
If I recall correctly, [Ian] started as a caricature of the Mary Worth background artist Bill Ziegler, who was assisting on the strip in the 70s. To add insult to injury, Ziegler took over drawing the characters in the 80s and had to draw a caricature of himself as a pompous ass.
He also provides a link to a site selling some Ziegler-era MW (scroll down or search on "Mary Worth"). Here's a taste: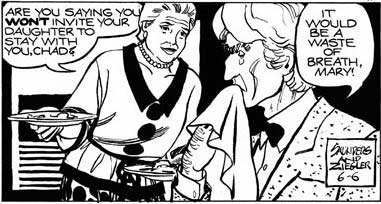 Also worthy of note is this wide-ranging interview with Curtis author Ray Billingsley, sent to me by faithful reader Quacks Like A Duck. Fun facts: Billingsley's been cartooning since he was a teenager, and at 16 was in Will Eisner's class at the New York School of Visual Arts with Patrick McDonnell of Mutts. Also, his now-legendary balloon suicide cartoon was banned in Boston, baby.