Post Content
Hey kids! Before we launch into today's comics, I need to back up a bit, because I didn't give credit where it was due yesterday. Seems that Monday's TDIET was submitted by faithful reader Klipper an his wife, better known no doubt as Zoe's parents!
They'll Do It Every Time, 9/24/07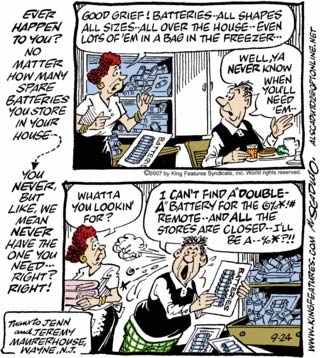 It's OK, Klipper! You can just get up and change the channels with the little buttons on the TV set itself, you know. No need to cuss. Kudos on the green plaid pants, by the way — most people wouldn't have the nerve to pull that off.
And now on to today!
Archie, 9/25/07

Ignoring the glaring problem with the dates (perhaps the AJGLU 3000 refuses to embrace the papist conspiracy that is the so-called "Gregorian calendar"?), I am quite pleased by the vision of these four teens lined up at the Learning Bar, each with an iconic symbol of their favorite summer activity, to wit:
Jughead: Surfing.
Archie: Naked basketball.
Betty: Being carried aloft on a litter by a team of manservants, one of whom is extra-hunky and shielding her from the hot sun with a fringed umbrella of the type employed the by the queens of the Orient in days of yore.
Veronica: Putting on her cleverest disguise and prowling the night as the Black Cat, Riverdale's greatest — and sexiest — rug thief!
Mary Worth, 9/25/07

"Mary, please don't say 'I told you so…'" HA HA HA HA HA HA
Poor Drew! He's managed to botch relationships with two perfectly nice women, he has to go admit to his father's awful not-girlfriend that she was right, and if this little couch scene is any indication, he probably just walked in on a little Dr. Jeff-Mary make-out time. So in panel two, he's responding the only way he knows how: by shrugging the most epic shrug that human shoulders have ever attempted. I mean, look at that thing. He's even putting his knees into it. He's going to need some long hours at the chiropractor afterwards, but his form is so perfect, it'll totally be worth it.
Luann, 9/25/07

Actual, not-made-up discussion my wife and I had last night as we were falling asleep:
Me: Hey, does TJ have a job or anything?
Her: He's a vest salesman! …no, a vest model.
TJ apparently only uses his snazzy sweater vests as formalwear, though: when he's cooking for his hard-working man, he wears a more casual black button-up white collared number. Today, Brad suggests that his friend might make some extra money by serving as the firehouse's sexual plaything, a proposal that's not being dismissed out of hand. Oh, TJ! You'll do anything to avoid getting a real job!
Apartment 3-G, 9/25/07

Yeah, you know, "family matters." Like in junior high, when they separated the boys and the girls and showed them filmstrips about "family matters."
True Margo-watchers know what that vibrating index finger presages. Eric and Nora need to get down on the floor now and cover their heads with their arms if they want to have any hope of coming out of this with their pretty faces intact.