Post Content
Mary Worth, 12/5/07

Fun possibilities for the "something" Mary is about to tell Jeff:
"…if you're actually upset about spending less time with me, you're more of a twisted masochist than I thought."
"…once I complete my human-animal hybrid research, 'ChesterJeff' will be receiving all of my attention."
"…I flew all the way to a filthy third-world hellhole to get you back from a rewarding, fulfilling career, so obviously I don't give rat's ass about what you want. Either you come back to my apartment and wheeze away while staring at me worshipfully, or go to hell."
Gil Thorp, 12/5/07

Fun possibilities for the "something" that Grant and Jimmy did for Cully Vale:
Bribed Marty Moon's doctor to horribly botch his eye job and facelift, leaving him with a permanent, frozen expression of stunned surprise.
Killed Marty Moon as per Gil's instructions, and left his gape-mouthed severed head in the broadcasting booth, spewing forth prerecorded banter from an iPod they taped to his skull.
Made him team captain and let him call the coin toss, only to unveil an enormous "CULLY VALE IS A MURDERER" banner at the moment that all eyes are on him.
Apartment 3-G, 12/5/07

Fun possible ways in which Margo might try to help Ruby have some fun:
Taking her to a bar to try to pick up much younger men.
Taking her to her dealer to buy some coke.
Convincing her that there's nothing more thrilling than the glamorous, fast-paced world of Manhattan party planning!
Family Circus, 12/5/07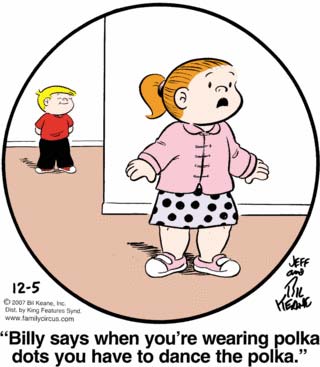 Don't look so God-damned smug, Billy. You just condemned your family to at least three weeks of accordion music and the sight of Dolly lurching about spasmodically.