Post Content
For Better Or For Worse, 7/11/08

You know what it's been way, way too long since we last did? A little bit of What They Say And What They Mean!
| | |
| --- | --- |
| What he says | What he means |
| "Hi Dr. P! How's it going?" | I have a penis! |
| "Fine, Anthonty!" | I have a penis too! |
| "Is Liz around?" | Did I mention that I have a penis? |
| "She's in the house. They're going full-tilt on the wedding plans, so I wouldn't go in there if I were you." | I have a penis. That's why I'm outside! |
| "Is there a problem"? | Is there a problem that can be solved specifically by my penis? |
| "It's a wedding! There's always a problem! Something's not right here, a dress doesn't fit there, people haven't responded, the caterer's out of town…" | Ha ha, because we have penises, all these words I'm saying to you are just meaningless babble to us! We're obviously incapable of making phone calls, maintaining a spreadsheet, contacting vendors, writing notes, or doing any number of totally non-penis-related tasks! All the things they're doing in there — those are things only someone with a vagina is physically capable of doing! |
| "Maybe we should just elope." | I have a penis! |
| "What? And spoil all the fun?!!" | I have a penis too! |
Apartment 3-G, 7/11/08

Jack may sound concerned about the possibility that riff-raff might be pillaging the Mills Gallery, but his facial expression in panel three conveys to me a certain growing sadistic glee. I predict that a certain trio of crackheads are about to be on the receiving end of a savage and righteous keying. Perhaps Jack's inner vigilante has been frustrated for years by modern New York's low crime rates, or, more likely, he may realize that an act of shocking violence is the quickest way into Margo's affections.
Mark Trail, 7/11/08

One look at that second panel will show you why Kelly Welly is considered the sex symbol in this strip. Oh yeah, baby, roll that right eye a little further towards the side of your head while staring straight ahead with the left. Mmm-hmm, that's the stuff.
Pearls Before Swine, 7/11/08

Oh, Mr. Pastis, I ignored you when you taunted Lynn Johnston. I ignored you when you tried to kill Jeffy. But Masky McDeath? Oh, well played, sir.
Gil Thorp, 7/11/08

More proof that illegal immigrants do the sort of dirty cleanup work that Americans won't! Steve Rosen probably refused to drive in the winning run unless he got dental insurance and overtime pay. You wouldn't have gotten that kind of lip from Elmer.
Ziggy, 7/11/08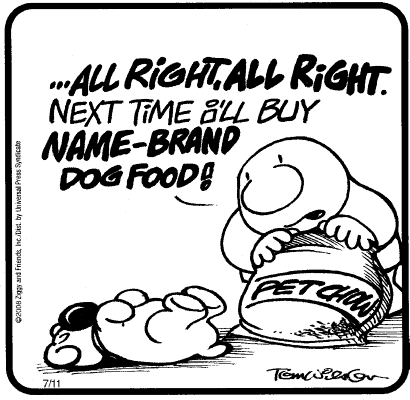 Ha ha, Ziggy's killed his only friend with off-brand dog food!