Post Content
Mark Trail, 4/30/10

I know it doesn't really pay to contemplate the economics of comic strips too deeply, but in these days when newspapers and magazines are cutting full-time staff, cutting back on freelance fees, and trying to smooth-talk eager "new media" types into blogging for free, how exactly is it that Mark and the Trail family have remained solvent? We've never even seen him file a story, since when he's supposed to be writing he inevitably becomes involved in some fisticuff-heavy derring-do that would leave him unable to write with the kind of rigorous objectivity that the strict editorial staff of Woods and Wildlife demands.
What I'm trying to say, Cherry, is that unless your dad holds some kind of valuable patent on a powerful animal tranquilizer, Mark is going to have to scurry off over and over again to afford you the kind of elaborate lifestyle you enjoy, with all the pricey mom jeans and what not. "Oh, Bill Ellis! I'd better go to New York and see what he has to say!" "But Mark, you just said…" "Not now, honey. Bill Ellis needs me!"
Apartment 3-G, 4/30/10

While we all appreciate a good episode of Margo berating and humiliating Lu Ann, might I tentatively point out that Mills Gallery is broke, and that Lu Ann's cheesy watercolors lend themselves perfectly to cheesy holiday cards ("Happy Fernmas, from the Mills Gallery"), the markup on which is presumably substantial? Jack used to be adamant about not "lowering our standards," but the harsh reality of the modern art world has forced him into crass marketing. But whatever, Margo is suddenly all about purity of artistic vision now. All of Lu Ann's bougie prints will be dumped in the back alley in short order — representational art went out in the fucking 19th century, kids — and the gallery space will be given over to a series of challenging and unmarketable performance artists. First up will be Tommie with a wrenching multimedia piece entitled Why Won't Anybody Talk To Me Why Why Why.
Family Circus, 4/30/10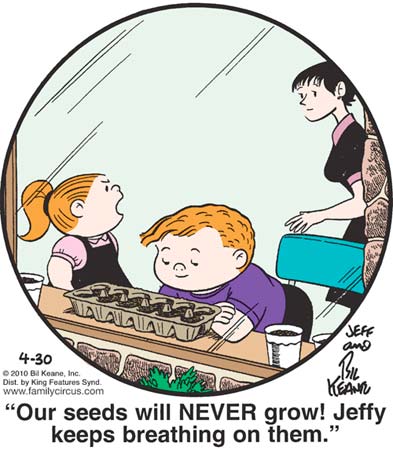 To nobody's surprise, Jeffy's breath carries the awful stench of death.