Post Content
Click the banner to contribute and receive a Commemorative Comics Curmudgeon Bible Bird Band! Details here.

Birds of a feather flock together! Contribute to The Comics Curmudgeon and join them — sporting your stylish one-of-a-kind Comics Curmudgeon Commemorative Bible Bird Band!
---
The Wizard of Id, 10/13/11

B.C. creator and Wizard of Id collaborator Johnny Hart famously used his comics as a platform for his religious beliefs. Hart is no longer with us, but the tradition lives on, I guess, kinda? Here, the eponymous Wizard summons the Cacodaemon (κακος — "bad", δαιμων — "demon": way to go, creative team) for a little light housekeeping. Do you suppose he gets conflicted about clearing out the spider webs? Scrubs toilets as well as Knute? Works on Sundays? Theology is hard!
Funky Winkerbean, 10/13/11

Failed Book Guy gamely rings up his final sale, to the smug bore who drove away every last one of his other customers.
Judge Parker, 10/13/11

Ripped from the headlines: Fresh from a foiled attempt on his life, Saudi diplomat Bubu Chibale* tails Randy Parker. He must act soon — a few more of their "lucky breaks" and the infidel Parker-Driver-Spencer alliance will surpass his own Kingdom in wealth and power.
* Fun fact: "Bubu" and "Chibale" are in fact both Middle-Eastern male given names, but they're Egyptian, not Arabic — and from the very first page of the baby-namer. Research, Judge Parker people!
Curtis, 10/13/11

Ha, Curtis sure looks annoyed about this flashback. Understandable, really — in his strip, "flashback" means yet another iron cycle of "embarrassed shopping for school clothes", "resisting the first day of school", "bullied by Derrick and 'Onion'", "Flyspeck Island hijinx", "spurned by Michelle", "stalked by Chutney", on and on until at last Kwanzaa brings the sweet relief of madness, if only for a week.
---
Fundraiser update
Bible Bird Bands are starting to arrive in contributors' mailboxes — and there's still time to make a generous donation and get yours! When you do, don't forget to send Josh a picture at bio@jfruh.com. Put yourself on the (updated) map:
GOOSETRAX (full details and Privacy Policy here.)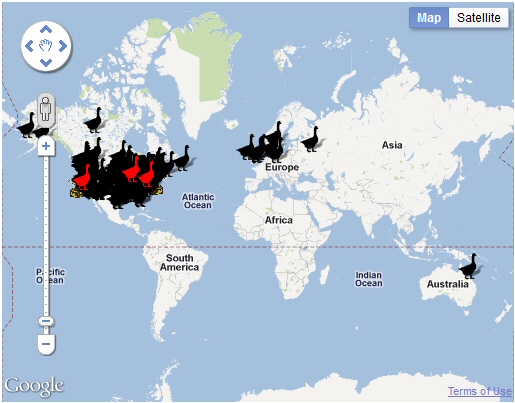 Just like the fabled Passenger Pigeons, Comics Curmudgeon Bible Geese blot out the sun!
---
Mark Trail's Greatest Hits – a Fall Fundraiser special, part 4
Mark Trail — 5/22, 11/14 – 15, 12/27/08, 3/30/09





That Mark Trail is one persuasive fellow.
— Uncle Lumpy