Post Content
Family Circus and Dennis the Menace, 9/3/12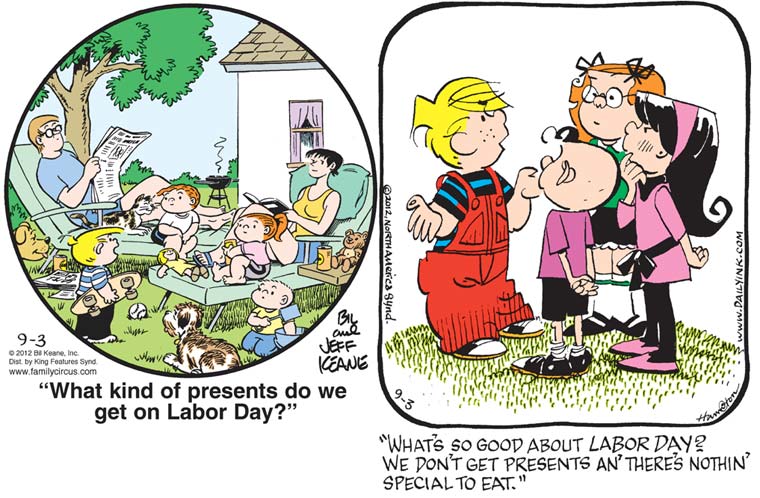 Happy Labor Day, everybody! Let's all celebrate the prosperity of the American worker, which has allowed the children of the American worker to become whiny, entitled brats who can only say "gimmie gimmie gimmie." Looks like a century of child labor laws have had negative social consequences after all! Let's get Dennis and Billy to work in a glove factory stat and shut their greed-holes with good, honest manual labor at 50 cents an hour.
Gasoline Alley, 9/3/12

Gasoline Alley traditionally celebrates Labor Day by eschewing its usual inane plots for elaborate drawings of chain-link fences. Today's strip contains a shocking innovation, however: acknowledgement that a so-called "Internet" exists, and that Gasoline Alley strips can be found there. Given the no-doubt extensive overlap between people who still pay for print newspaper subscriptions and people who faithfully read Gasoline Alley in the newspaper because they are unaware of other alternatives, this seems like a poor business decision.
Archie, 9/3/12

Today's Archie may be telling us that in times of idleness we desire business and vice-versa, so that we are never truly at ease; it may be making a larger point that the things we desire will never be as sweet as we imagine; or it may be more specific, showing us that Archie himself cannot stand to spend quiet time with himself without confronting his own essential emptiness. This is pretty heavy stuff, particularly for Reggie, whose own obnoxious egotism has largely shielded him from any kind of depressing introspection.
Marmaduke, 9/3/12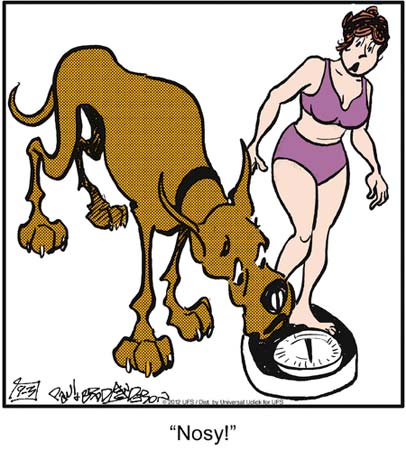 Don't be alarmed, Dottie! Like you, Marmaduke is "watching his weight." Specifically, he needs to regulate the amount of human flesh-meat he consumes in order to be as svelte a hell-demon as he can be. So even if that number is a little higher than you'd like, be glad, because your extra pounds are all that stand between you and gory annihilation.