Post Content
Curtis, 2/21/14
Remember when that dolphin swam into Brooklyn's extremely polluted Gowanus Canal and then died, more than a year ago? The creators of innumerable parody Twitter accounts, along with the creators of Curtis, hope you do! Curtis has been sad about these poor trapped dolphins all week, but now Magical Caucasian Gunk will rescue them with his Flyspeck Island powers, after stripping to the waist! I'm mostly just relieved to learn that Gunk's nipples, unlike his eyes, are configured in the usual way.
Crankshaft, 2/21/14

Speaking of half-naked people in the icy cold, it looks like Crankshaft has somehow managed to lock himself out of his house wearing only a towel and set off the burglar alarm trying to get back inside, ruining his family's vacation in the process! Thanks to Big Government, we're not allowed to print a drawing of Crankshaft's exposed junk in the newspaper, but panel three uses a clever reaction shot to illustrate what an unpleasant experience it would be for you if we were.
Dennis the Menace, 2/21/14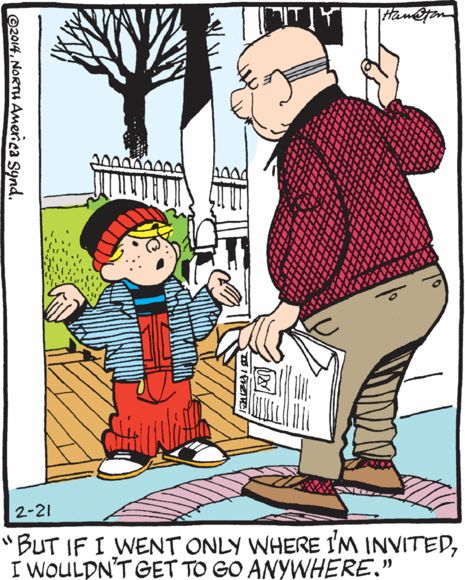 Ha ha, it's funny because literally nobody wants to spend any time with Dennis! Looks like the person he's really been menacing has been … himself.