Post Content
Website technical thingie note: Hey all, I've tweaked the formatting for the site again, so if things look really wonky, you may need to reload the page while holding down the shift key, and if that doesn't work, you might need to clear your browser cache.
Dennis the Menace, 4/7/14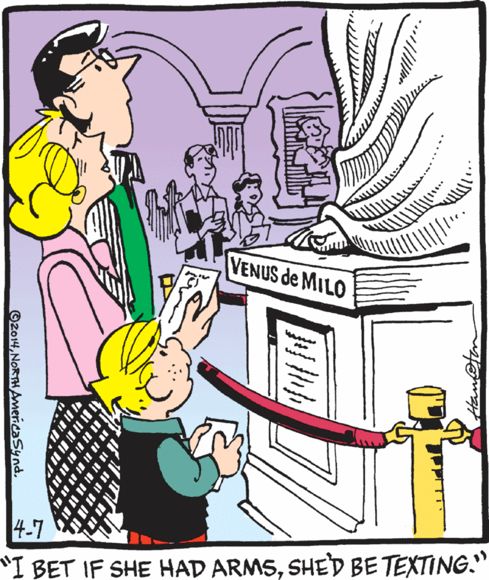 OK, so I get that if you came up with a joke about "what if the Venus de Milo wanted to do some texting, but she couldn't? eh? eh? because she hasn't got any arms? eh?" and you had a nationally syndicated comic panel where your jokes could go, this would be hard to resist. That said, there's a lot of setup to this joke that has to be glossed over, with the most important aspect being that the Venus de Milo is in the Louvre, which means that the Mitchells, who have never been seen before doing anything more exotic than driving to tourist traps in their station wagon, have packed up Dennis and taken him to France. I feel like we were deprived a number of potential gags of various menacing levels here — Dennis sullenly resists Margaret's attempt to teach him even a rudimentary amount of French, Dennis announces at the TSA checkpoint that he's packed something dangerous and/or alive in his suitcase, Dennis loudly says "But dad, he doesn't look like a frog at all!" in front of a Frenchman Henry is trying to impress, etc. Honestly, the fact that they're standing in front of a topless statue means that a Dennis-makes-reference-to-human-sexuality-and-everyone-is-uncomfortable is a much more likely and entertaining scenario here than some dumb texting joke.
Hagar the Horrible, 4/7/14

So it appears that, while concubinage was common in early Norse society, Vikings didn't really practice polygamy except at the very top of the social pyramid, and certainly Hagar, the leader of a smallish and incompetent war band, doesn't qualify. Nevertheless, this strip is an interesting look at how attitudes might differ in a culture where marriages are thought of not primarily as a romantic attachment between two people but as a basic unit of economic production.
Funky Winkerbean, 4/7/14

Oh, it looks like Jess is going to take another stab at making a movie about her dad, John Darling! She has to refer to him as "my dad, John Darling" whenever she brings him up, because she only brings him up every year or so. Anyway, today she acknowledges that all human endeavor is basically a race against the final destruction of our planet, a race that can seem easy to lose when you're smothered under a heavy blanket of depressive torpor.
Better Half, 4/7/14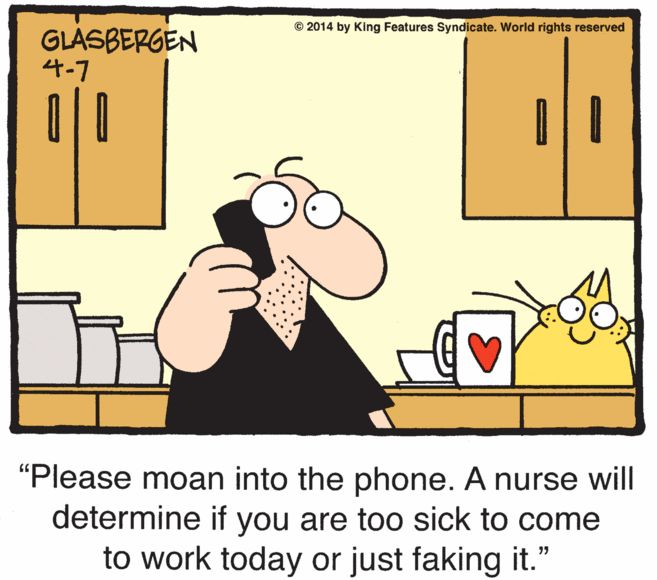 At last, Stanley has found a phone sex line that caters to his fairly specific needs.