Post Content
Family Circus, 7/3/14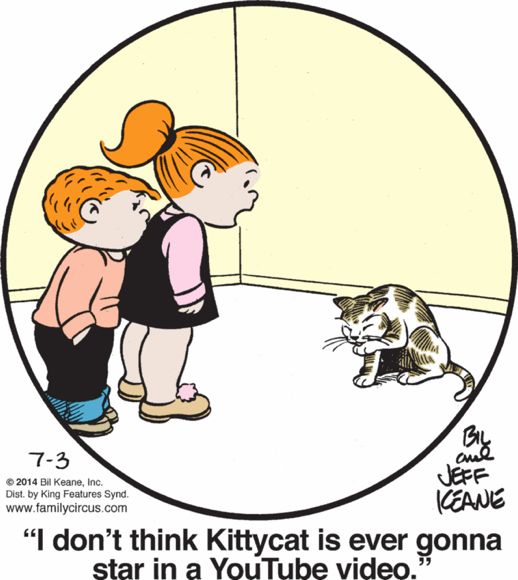 Man, you guys, those are some glum-looking Keane Kids right there. Just alone in that featureless room with the cat. How do we get out? is the one question that animates their minds. Not just out of the room — though they want to get out of the room, of course — but out of their heads, out of their family, out of their lives. They've seen the antics of cats and dogs on the computer screen, obviously, and they wonder: what about the giggling humans in the background? Do they make money, somehow? Do they live exciting, dynamic lives, lives not spent in some room with a white rug and cream walls and no art? Could Kittycat be their ticket to that life? Too bad Kittycat doesn't share their ambition, their desperation. Kittycat likes the featureless room. Kittycat just wants to take a bath, then maybe a nap.
Spider-Man, 7/3/14

"Thanks for getting my car back, Doctor Octopus! It's, uh, all pretty smashed up and undriveable now, but I appreciate the thought. At least that guy didn't successfully heist it!"
Luann, 7/3/14

Hey you guys, I know I've been super remiss in keeping you up to date on Luann's queasy-making erotic stylings! Anyway, today in Luann's queasy-making erotic stylings: Gunther's mom wants Gunther to make good on his spontaneous and instantly regretted boast that he was going to move with Rosa to Peru so she can have the house to herself, for sex. It says a lot about Luann that Quill/Gunther's mom is the least revolting pairing the strip has offered us in years.