Post Content
Apartment 3-G, 7/28/14

I'm back everybody! Isn't it great when come back from a long time away and discover that literally nothing has changed? Tommie and Carol are wearing the same clothes they were wearing two weeks ago, and are still just standing around talking about nothing of any interest to anyone! The two of them cruelly drove away beloved non-Tommie non-Carol character "Tina" and since then it's just been the two of them yammering away in an otherwise empty universe. Oh, were you excited by the prospect of what excitement an appearance from "Doc Wheeler" might've brought to the strip? Hate to break it to you, but there isn't any "Doc Wheeler." We sure didn't see him on panel. Probably Tommie formed some straw into a vaguely man-shaped pile and said "Look! It's Doc Wheeler!" and Carol said "Hey there, 'Big Wheel!'" and then they both laughed and laughed for way, way longer than they should have.
Judge Parker, 7/28/14

Meanwhile, all sorts of things happened in Judge Parker, the main thing being that Neddy has finally come into her own as a Spencer-Driver. Balancing the books of her "Made In The USA" clothing line on the backs of the Social Security and Medicare trust funds and/or old people's desperation? Heading down to the factory she owns to smugly watch the elderly try to operate machinery and thread needles with trembling, arthritic hands? Abbey's right: she should've told Sam this sooner. He'd eat that shit up.
Better Half, 7/28/14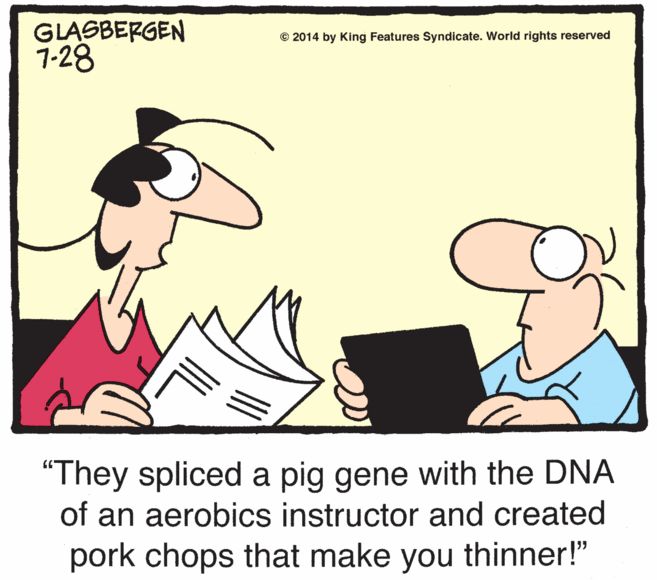 Also, the Better Half continued its slow and steady migration from "slightly less hateful Lockhorns knockoff" to "full-on surreal horror-nightmare." I'm reading "spliced a pig gene with the DNA of an aerobics instructor" as meaning an aerobics instructor got some genetic material from a pig and not vice-versa, which means that the Better Half takes place in a dystopian future where even a small amount of artificially engineered DNA in a human's genome makes that human an un-person who can be killed, cooked, and eaten without fear of legal or social repercussions.
Pluggers, 7/28/14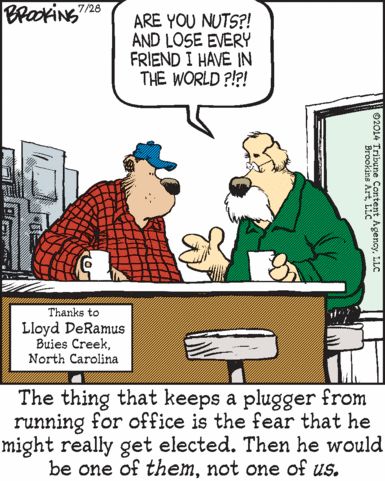 Deep down, pluggers know that their supposedly non-ideological knee-jerk "they're all crooks!" attitude towards elected officials is a cop-out.