Post Content
Click the banner to contribute by credit card or PayPal, or here for complete details and a banner index. — Thanks!
Gil Thorp, 8/30/14

Oh ha ha, a nationally-ranked star quarterback just fell into Gil's lap because Valley Tech "didn't feel right" or some such B.S. Panel-2 Gil can barely suppress his glee (that's Gil glee – trust me on this). With True on board, he'll be able to bluff his way through the entire season and still win a game or two; maybe even make the playdowns. Of course rivalries will tear his team apart and his betrayal will scar his young charges for life, but let's keep our eye on the bigger picture here, shall we?
Dick Tracy, 8/30/14

In their vulnerable moments, even law-abiding citizens of peaceful countries can be overcome by dark paranoid fantasies in which armed officers chuckle as they blithely ignore law and principle in service to their wealthy masters. For more than 80 years, it has been the role of Dick Tracy and Little Orphan Annie to present this paranoid hellscape as a kind of utopia.
Citizens! Don't let the face of Sam Catchem be the last face you see! Comply!
Apartment 3-G, 8/30/14

I bow to no one — not even the Comics Curmudgeon himself — in my devotion to Apartment 3-G, which I have been following since the Kennedy administration, and daily for the last eight years. But when I saw today's strip, I realized I had absolutely no memory of this "Rick" (Tommie's recently deceased fiancé was named Jim). That implies that Rick is unmemorable even by the standards of Apartment 3-G men — a sort of black hole of interest from which nothing can escape. A long grind through the archives yielded this image from the March 2012 "Tommie is going to be a singer or some damn thing" story, so yup:
Apartment 3-G, 3/9/12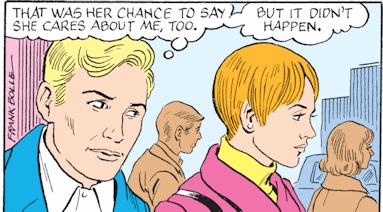 The steady degeneration of Tommie's boyfriends brings a chilling thought. What if all this didn't begin in May, 1961, but further back — say, at the Dawn of Time? Imagine Tommie as not a woman but as Woman Herself: Eve, Helen of Troy, Mary Magdalene, Cleopatra, Wu Hou, Jeanne d'Arc, Nzinga Mbande, Pocahontas, Florence Nightingale, Colette, Lucille Ball, Eva Perón — all hanging around with the likes of Gary from IT, ol' Doc Buckethead, and this "Rick" here. It's disgusting.
Mary Worth, 8/30/14

Predictably, Dr. Drew has been secretly replaced by some kind of insane judgmental robot, condemning his fellow doctors as much for their humanity as for their errors. He seems quite certain about Kaphut's fate, probably because he plans to carry it out himself.
Mary's point, of course, is that Kaphut should suffer worse than merely being torn apart by a crazed homicidal machine, even though such a thing is not possible. That way both Drew and Kaphut come up short, so it's win-win in her book.
---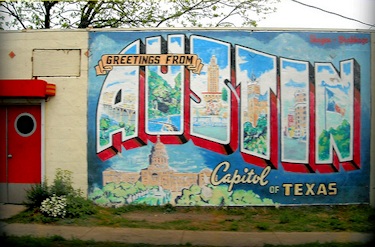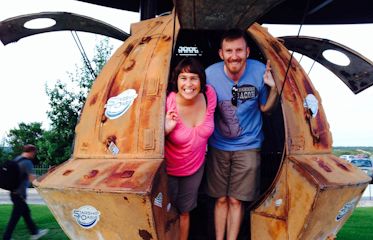 Westward Bound! Day Five


Splashdown — in Austin! Midway through their 3,000-mile trip, with a well-earned day of loafing ahead. Then off again, into the searing West Texas heat.
— Uncle Lumpy