Post Content
Click the banner to contribute by credit card or PayPal, or here for complete details and a banner index. — Thanks!
Apartment 3-G, 8/28/14

Ah, Tommie's Parade of Paramours marches on – today it's IT Gary, whom Tommie didn't find so robotic back in the day:
Apartment 3-G, 12/4/07 (panel)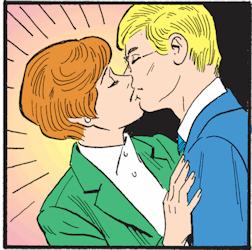 The background on this baffles me a little – is Gary just not that into her?
Anyway, Tommie and Gary got pretty serious until Gary pulled up stakes and headed for Colorado in search of IT fulfillment, expecting Tommie to follow. She didn't, because as Margo helpfully explained to her at the time, "You don't even SKI!" These days, of course, people visit Colorado for all kinds of reasons other than IT and skiing. Which raises the question of how Tommie would act if she went to Colorado and got really, really wasted — like Maureen Dowd wasted. I think she'd probably spin around the room with a vacant expression on her face, getting into endless, pointless conversations with her roommate Carol.
Archie, 8/28/14

Ooh, menace points for the little scamp in Archie. But is this even a thing people do any more? In California where I live, state agencies and TV newscasters encourage people to turn in their water-wasting neighbors for fines and reëducation; we have camps. There's even an app to make shaming them more convenient. So it's more likely somebody would write "Thanks" on a dusty car, and "Don't waste water" in mud on a perfectly clean one. And then get fined for wasting water to make mud.
Gil Thorp, 8/28/14

Hey it's Marty Moon! Marty takes a lot of grief here for being a pissy little alcoholic failure. And while that's 100% accurate, credit him for being the only voice in Milford to call Gil on all the B.S. he dishes out in lieu of doing his damn job. Sure, right now it's looking good with the 7-man practice of all against all and Sa'ad Shamoun's muscle mass, but wait 'til mid-season when he pulls out the Wing-T or 5-wide or some nonsense and everybody mutters, "Sure, Coach." Right now, though, it's the first day of school, and Gil has other things on his mind – that enormous stein of coffee isn't going to drink itself, you know.
Gasoline Alley, 8/28/14

The team at Gasoline Alley wishes to remind its readers that while "real life" may be where you live, it is most definitely not where they live.
---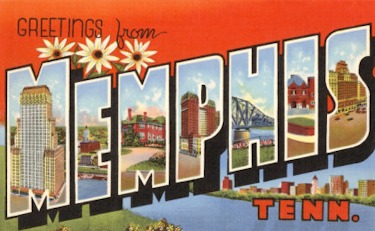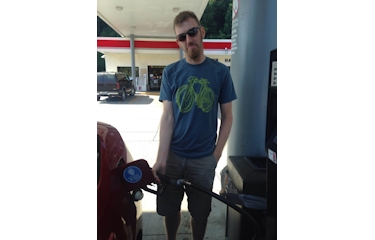 Westward Bound! Day Three

And while we're on the topic of gasoline: you can just see it on the poor guy's face — "How, oh how can I possibly afford all this costly fuel?"

Faithful Comics Curmudgeon readers can think of a way!
— Uncle Lumpy