Post Content
In the last full week of August, attention spans and expectations are low. Time for a week-long 'theme' series to fill up the queue without too much annoying work.
Apartment 3-G, 8/26/14

Oh hey it's Tommie's cavalcade of boyfriends, going back to 2007! Sure, Lu Ann and Margo get all the attention, but it's boring old Tommie who gets all the action. Here's the Swain o' the Day:
Apartment 3-G (panel), 2/4/07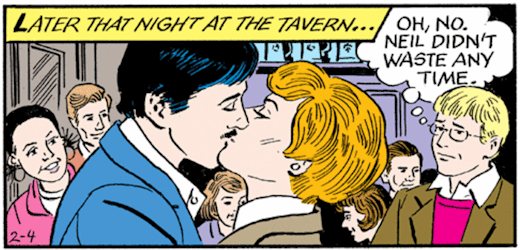 This is Neil Flynn, a small-time community-theatre lothario who played a one-shot role in 2007, mostly to humiliate IT Security Studmuffin Gary, shown in silent lamentation there on the right.
Neil kissed Tommie once, and was never her "boyfriend" in any reasonable sense of the word. So "arrogant, cruel, and a cheater" is apparently Tommiespeak for "I totally let him kiss me — and no proposal, not one! Can you believe it? I would be a grandmother today if not for that bastard — the nerve of the man!"
Crankshaft, 8/26/14

All week long, bitter old Ed Crankshaft daydreams about delivering his incoherent petty spite globally, at industrial scale. But in a run of bad luck, his bus is beset by gremlins, hijacked by convicts, overrun with snakes, and crashlands on a mysterious tropical island somewhere in the South Pacific Ocean.
Judge Parker, 8/26/14

Dude, if you're gonna do the waxed moustaches, use the little grey cells, too: "Hi, Sam" just won't cut it. Repeat après moi: "Ah, M'sieur Drivair! I 'ear zat M'selle Nedday, she 'as retourned, wiz zee radiant skeen, and zee fairm, rounded … 'ow you say … accoutrements. M'sieur Drivair iz M'selle Nedday's step-fazzair of course, but none of zees is creepaiy, n'est-ce pas? Non! We are Franch, zat iz why!"
Mary Worth, 8/26/14

Mary Worth wraps up the "Bad Doctor" loose end. Say, have you noticed that all Mary ever does at the hospital is peer at blank sheets of paper and eavesdrop on gossip? It's almost as though patient care somehow isn't her top priority. Go figure.
And wouldn't you just love to see Nurse Bluehair on your medical team? Sure, it's all grins watching her try to work out the relationship between "the ones you don't suspect" and "the ones you don't bother to keep an eye on" until you see her standing at the foot of your bed with a catheter, an I.V., an oxygen cannula, and a baffled look on her face.
Baby Blues, 8/26/14

Any parent ever born just switches the plates. Any parent ever.
---
–Uncle Lumpy