Post Content
Heathcliff, 10/21/14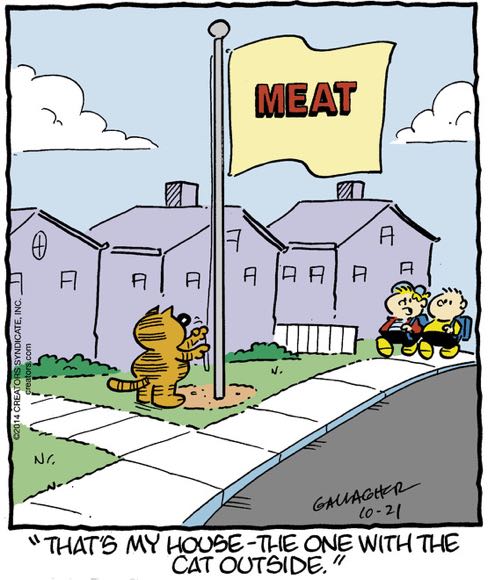 I genuinely love that Heathcliff's owner-child has been so defeated by his cat's weird, off-putting text-flag antics that he doesn't even draw attention to them as he walks resignedly home. "Yep, that's our house. The one with the cat outside it. The meat house. We're the meat house today, I guess. Better than being the meh house. Yeah, meat, the house is like, made of meat, or full of meat, or something meat, I dunno. Do you wanna hang out together after school again tomorrow? No? That's OK, I totally understand."
Blondie, 10/21/14

I genuinely love how sad Dagwood looks in panel three. He's never once stopped Elmo from just wandering into his house and doing whatever he wants, so presumably he's bummed out because now his teenage daughter is going to be married to a prepubescent child and there's nothing he can do about it.
Dick Tracy, 10/21/14

Having finally wrapped up its Little Orphan Annie crossover fake time travel story, Dick Tracy has clearly concluded that mid-20th century nostalgia is the core of its brand. So, why not just spend the next three to six months re-enacting all of Arsenic and Old Lace? I loved that movie, didn't you?