Post Content
Apartment 3-G, 10/22/14

Oh, look, we're revisiting the other key aspects of the Margo was and I guess still is a publicist storyline, which are that when Margo cruelly rejected Skyler as a potential client, Skyler was cast as the new Bond girl, in a James Bond movie, opposite Margo's boyfriend, who was playing James Bond, one of the highest-profile movie roles in existence. Naturally she did such a lousy job as his publicist that her own roommates didn't realize he'd landed the part, and his mom didn't want to hang out with him on Christmas. Anyway, he went away to England to film the movie and then they … stopped dating? I guess? I guess Skyler is supposed to be gently ribbing Margo on this point — "I don't have to tell you that, because you 'worked with' him, by which I mean your genitals 'worked with' his genitals, in a sex way." I'm not sure if Margo is being haughtily sarcastic in panel two or has just genuinely forgotten what this plot was about. It was all a long time ago!
Barney Google and Snuffy Smith, 10/22/14

The tragic illiteracy of so many of Hootin' Holler's voters goes a long way towards explaining why the community is so poorly governed.
Pluggers, 10/22/14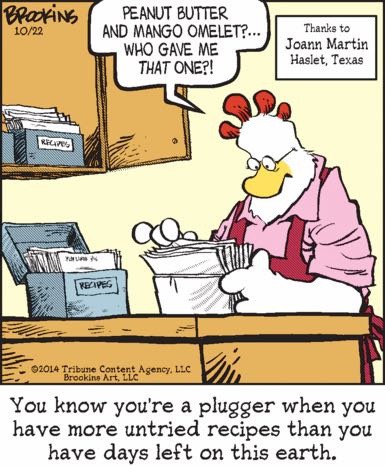 Pluggers only make the same four recipes over and over again, because they fear change and anything that seems even vaguely exotic. They're also going to die soon!