Post Content
Family Circus, 10/23/14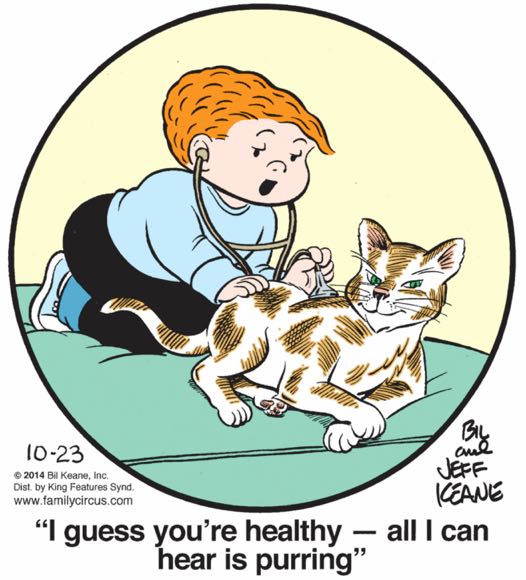 For all its various crimes against taste, humor, and narrative sense, the Family Circus at least treats its pets fairly realistically. Sam, Barfy, and Kittycat don't exchange wisecracks with the kids in thought balloon form like, say, the dogs in Marvin; they are instead mostly ignored by the children except for when they're being tormented, which strikes me as an accurate portrayal. Anyway, that all ends today with this terrifying depiction of Kittycat's facial expression, which proves that he's definitely in league with Satan, and is perhaps possessed by the Lord of Lies himself. Presumably when the poor creature rejected baptism in the name of Christ, he created a space within himself where the Devil could get in. Now the demon-controlled cat body still purrs in evil joy, even though his heart stopped beating long ago
Funky Winkerbean, 10/23/14

Funky Winkerbean is taking a break from death-terror and gross romance to give us a lighthearted sequence of Les and Funky on their morning jog. (Funky hates jogging but has to get in better shape so he doesn't die of a massive heart attack, so it's not a complete break from death-terror, I guess.) Anyway, Les takes this private moment to gently let his friend know that he hasn't been meeting the pun quota set for every Funkyverse character. "Oh, crap," thinks Funky. "Uh … it's a running panter? Panter? Get it, it's like banter but I'm panting?" Les smirks his approval.
Curtis, 10/23/14

Who can forget those great slang phrases of yore, like "Answer your telephone: 'This doesn't concern you!'" Or "I believe the message boy from Western Union is at your door with a telegram: 'Your opinion is irrelevant!'" Or "A courier from the King has arrived at your castle, bearing a scroll sealed with the royal signet: 'I don't need your advice!'" I mean, this strip isn't up-to-the-minute like Blondie, so we didn't get a real cutting-edge phrase like "You might want to check your Twitter DMs: 'Don't stick your nose where it doesn't belong!'" But this is still a good approximation of how the kids talk, A+ job.
Marvin, 10/23/14

Marvin has been farting out aggressive, mindless defiance literally since the day he was born.