Post Content
Heathcliff, 11/11/14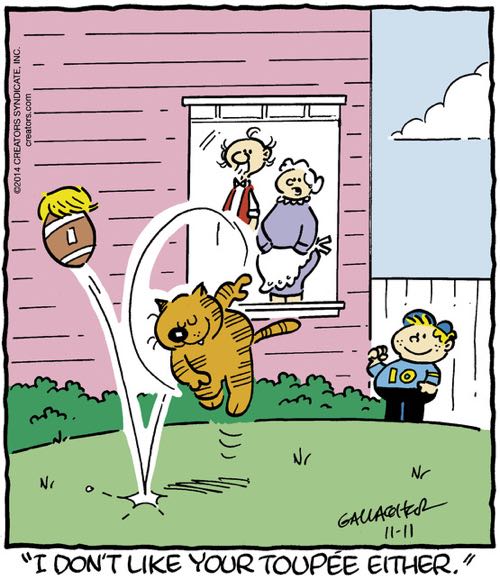 There's a lot of things I love about today's Heathcliff. There is, for instance, the fact that Heathcliff's owner-grandpa apparently has a blonde toupee that we've never seen before; the fact that Heathcliff holds this toupee in such low regard that he dug it out of whatever dark closet it's been hidden away in for years in order to show everyone exactly what he thinks of it; and the fact that everyone seems to recognize that putting the toupee on a football and then spiking that is meant as a public display of contempt. But my favorite part is the little fist-pump Heathcliff's owner-child is making as he watches this ritualistic act. "You spike that toupee-football, Heathcliff," he seems to be thinking to himself. "You spike it. You show that thing. It sucks."
Beetle Bailey, 11/11/14

Don't be too quick to thank a soldier today, America: you could be talking to one of the really shitty ones! This is your Veteran's Day message from Beetle Bailey, America's foremost military-themed comic strip.
Family Circus, 11/11/14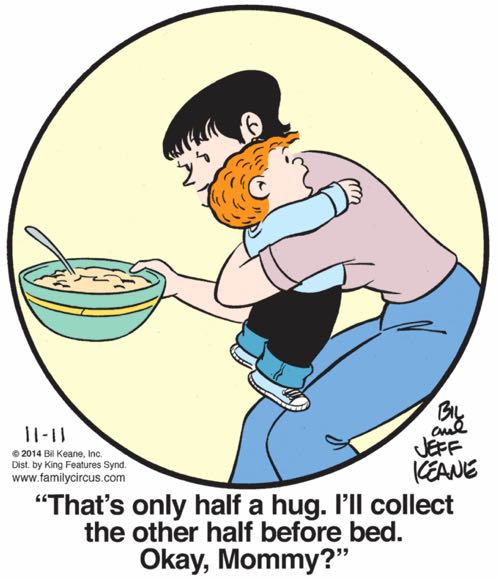 A true sociopath, who is unable to feel any real empathy for another human being, is likely to view emotional interactions as purely transactional, and those transactions as an opportunity for power plays. Thus little Jeffy has become an emotional mafioso, darkly reminding his mother than she hasn't paid up in full when it comes to affection and that he'll be coming by to collect his due later.
Mary Worth, 11/11/14

Nice try, Mary! While you're distracted and nattering on about how you'll chauffer Hanna around for the next three years, she's secretly moved the steering wheel over to her side of the car and is now driving you! You'll never stop her from driving! Never!