Post Content
The Lockhorns, 12/17/14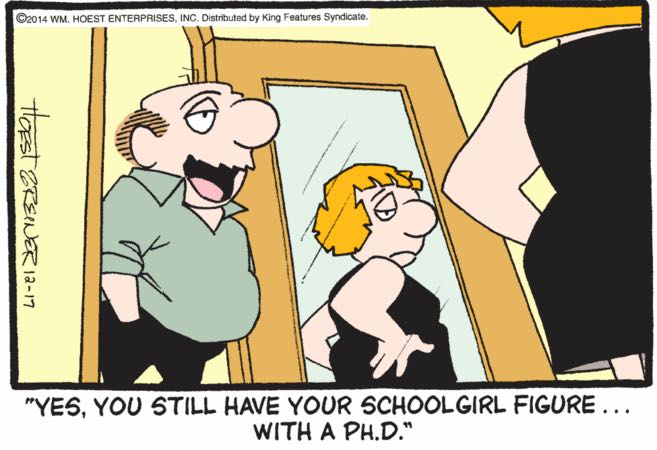 Kudos to the Lockhorns for occasionally giving us another angle on their "Leroy and Loretta passive-aggressively try to emotionally destroy one another in a mostly featureless hell-dimension" shtick. By another angle, I don't mean thematically, of course; I mean a literal viewing angle. Today, for instance, Leroy responds to Loretta's basic need for reassurance on her appearance with a cruel wisecrack while the two of them stand next to a doorframe and a mirror floating in an otherwise featureless-hell dimension, as you'd expect, but we're looking up at the whole scenario from about knee height, which gives us both a close up on Loretta's ass (demonstrating what gave rise to the conversation) and also a great look at Leroy's looming gut spilling over his belt (demonstrating the lack of self-awareness that's going hand in hand with his lack of tact).
Gil Thorp, 12/17/14

How is Gil following up his state football championship? Why, by keeping all the good players off the basketball team, that's how! "I only do a half-assed job at coaching most years, so shouldn't I be able to rest on my championship laurels and literally not even field a basketball team this year? Let's see how many people I can convince to quit!"
Rex Morgan, M.D., 12/17/14

Oh whoops it looks like Becka's husband didn't actually leave her for the sexy nutritionist co-worker he flirted with in 2009; that was just to establish his untrustworthy character in the very long chess game Rex Morgan has apparently been playing with us all this time. Anyhoo, I know Becka's in a low emotional state, but she also appears to be in the 25-40 demographic, and therefore shouldn't go around affixing the "cyber" prefix to whatever slur she's applying to people just because they came into her life via the Internet, satisfying though it no doubt is.
Dennis the Menace, 12/17/14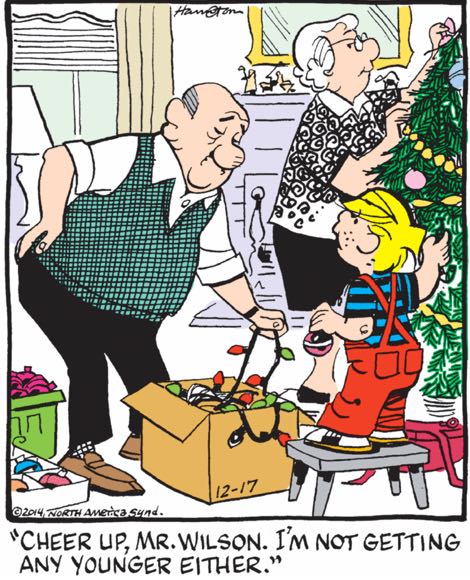 "Cheer up, Mr. Wilson! All of us are on a one-way road with no exits, and its final destination is death!"