Post Content
Rex Morgan, M.D., 1/8/15

FOOLISH MORTALS! DO YOU THINK YOU CAN BIND SARAH MORGAN WITH WORDS ON PAPER? SARAH MORGAN WHO IS DIFFERENT AND BETTER THAN US, SARAH MORGAN WHO BENDS THE MINDS OF MEN AND WOMEN TO HER WILL WITHOUT ANY EFFORT? WHAT MEANING DO THESE SCRIBBLINGS HAVE WHEN SARAH'S NAME HAS ALREADY BEEN WRITTEN IN HER OWN FIERY BLOOD ON THE PAGES OF ETERNITY
Spider-Man, 1/8/15

Not sure, which is more stupid and yet wholly believable in the context of this strip: that Mary Jane would keep her cell phone on her person while filming a movie dressed in a skin-tight superhero costume, or that Spider-Man would carry his around while doing business as an actual superhero.
Heathcliff, 1/8/15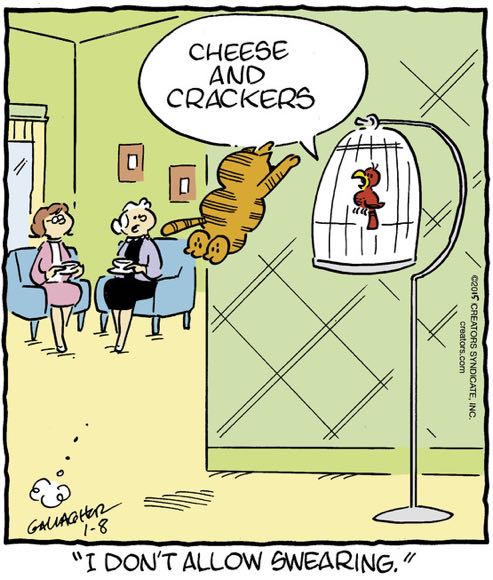 Heathcliff's owner-lady is so strict in imposing her Victorian sensibilities on all speech-capable beings in her household that they're forced to bowdlerize even the final, terrified pleas they squeak out just before their bloody death.
Dennis the Menace, 1/8/15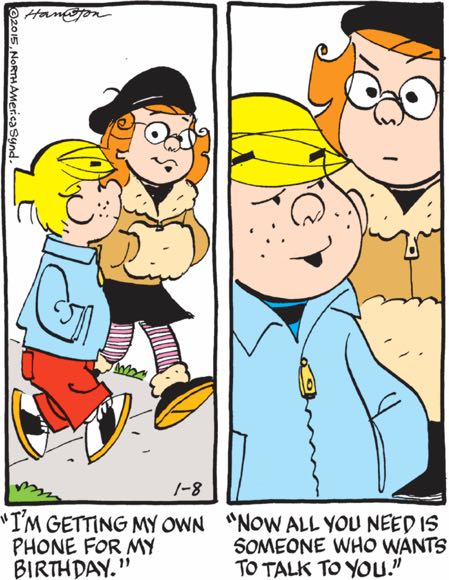 Ha ha, it's funny because Dennis the Dennis the Menace creative team thinks kids talk to each other on the phone!