Post Content
Family Circus, 2/16/15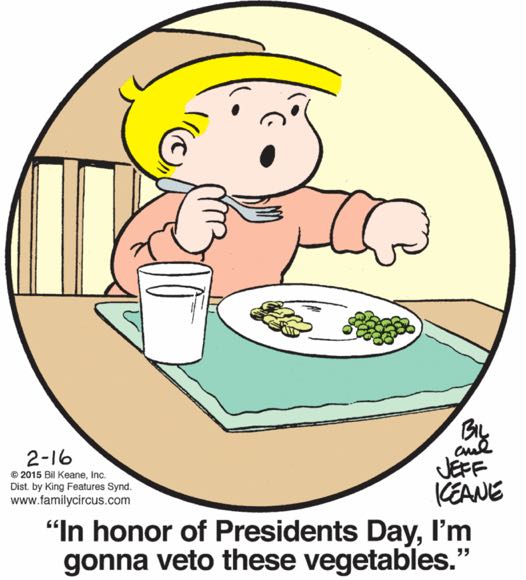 On Presidents Day, Billy pays lip service to the fact that we live in a democratic republic with an elected chief executive, but his thumbs-down gesture reveals his true desires: to be an autocratic Roman Emperor, with the power to dish out life and death in the gladiatorial arena and indeed anywhere else on his whim.
Funky Winkerbean, 2/16/15

I'm not entirely sure what the joke here is supposed to be, so I'm going to assume it's that Bull hasn't had this day set aside in advance at all, and the jerk-off motion he's making in panel three signals his contempt both for Enormous Midwest University and the concept of making lesson plans in advance.
Shoe, 2/16/15

Not sure what's grimmer here: the fact that a discussion of torture's legality is falling under the heading of "current events," or the horror that Sklyer just inadvertently revealed about his home life.
Gil Thorp, 2/16/15

YOU HEARD IT HERE FIRST: MAX BACON™ WILL BE TAKING WHAT HE THINKS IS ADDERALL BUT IT WILL JUST TURN OUT TO BE SUGAR PILLS
BUT HE'LL PLAY BETTER DUE TO THE PLACEBO EFFECT
IT'LL BE JUST LIKE DUMBO'S MAGIC FEATHER
EXCEPT MAX WON'T FLY, OBVIOUSLY
ALSO ADULTS WILL FIND OUT AND NOBODY WILL BE MAD, FOR SOME REASON