Post Content
Curtis, 2/4/15

This week's Curtis has features Curtis's dad going on and on about this collection of music "I grew up with" as performed by extremely non-specific "legendary" artists, who, we learn today, are not rappers. One assumes that these legendary artists are never named so that this plotline can be trotted out every few years while keeping Greg the same age, but the whole thing already seems on the edge of believability: with a couple of pre-teen kids and a wife not notably younger than him, it seems unrealistic to have Greg be much older than his mid-40s, which would mean he hit his musical stride right as hip-hop was starting to enter the musical mainstream. Ten years from now, it will be actively strange if he grew up not listening to rap, although who knows, maybe it'll be just as strange if Curtis is listening to it.
Pluggers, 2/4/15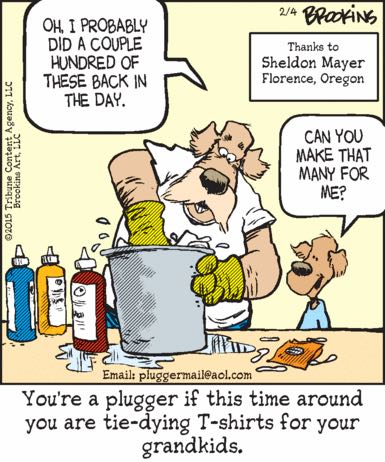 See, Curtis? Even Pluggers is admitting that most people in the plugger demographic in 2015 were filthy hippies in their youth. Just admit that Curtis's dad likes old-school rap already.
Judge Parker, 2/4/15

Any chance that this angry fellow, who claimed earlier to have some pull with important politicians, might actually have pull with important politicians has just gone out the window as he used "the fed" to refer to some random non-Federal Reserve government agency. Sam, whose returns on capital vary between the staggering and the completely flabbergasting based on Fed decisions on interest rates and quantitative easing and such, is very much not impressed. It would be fun if this guy really were talking about the actual Fed, though. "We need the Fed working on this! Do you think fiat money can clear that road? Only a strong gold-based currency can restore our nation's highways!"
Crankshaft, 2/4/15

In today's fractured media landscape, there are still specialized audiences who aren't being catered to — fans of watching angry, unsympathetic old men being sexually humiliated in public, for instance. One bold comic strip aims to meet this need.
Momma, 2/4/15

For a brief moment, Francis catches a glimpse of what it might be like to feel real human joy — and sees just enough to know that the experience is completely beyond him.