Post Content
Funky Winkerbean, 3/29/15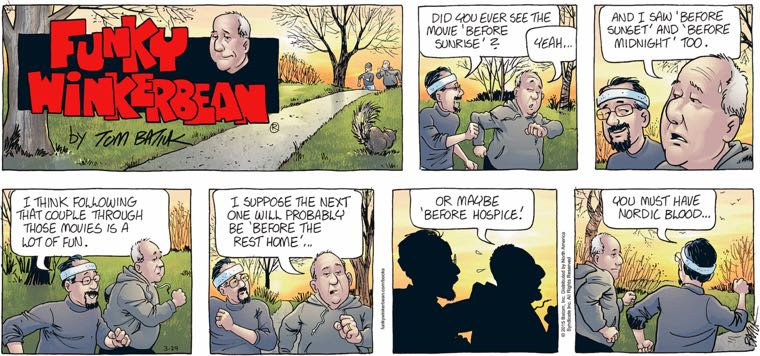 This isn't the first time Funky Winkerbean has used "Nordic" as a euphemism for "clinically depressed." "I think following that couple through those movies is a lot of fun." "Yeah, you know what else is a lot of fun? Thinking about how everybody dies and none of us escape."
Panel from Slylock Fox, 3/29/15

"Slylock helped the bird cough it up." Haha, how much of Slylock's job consists of him rooting around the gullets of semi-sapient animals who've accidentally eaten some valuable object or piece of evidence? "I'll just, uh, be over here holding this nice lady's purse," says Max.
Rex Morgan, M.D. 3/29/15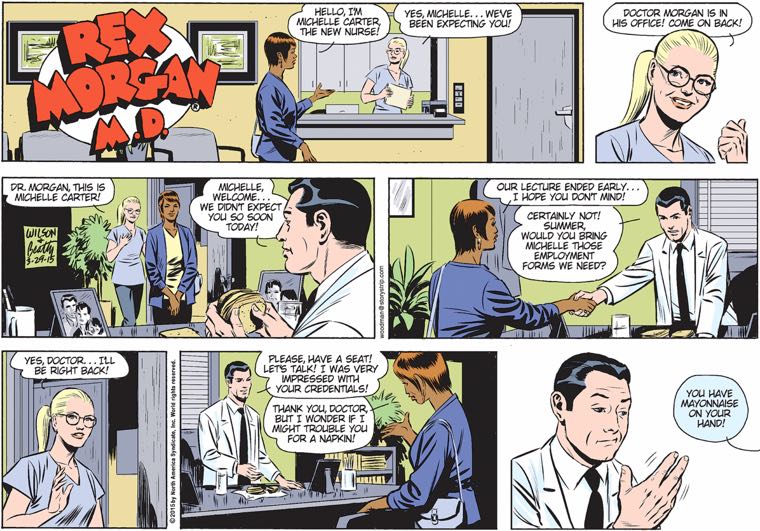 Oh hey I haven't talked about it at all but there's been this whole other non-Sarah non-mob storyline about Nurse Becka who got a black eye from maybe falling into a dresser in the middle of an argument with her cheating husband and then abruptly quit her job and left town, so now we've got her replacement … Nurse Carter! Nurse Carter is here to clean up this operation. Literally. This operation is covered with mayonnaise. It's pretty disgusting.
Panels from Dennis the Menace, 3/29/15

"In my day, during the long, anarchic regency for the child Emperor Of All Space Glorbax IX, we didn't need a video game to raid the galaxy! We just went down to the Star Docks, found the most disreputable ship's captain we could spot, swore a blood oath to defend his ship's honor, and then launched into the lightly guarded Outer Rim systems! The Galactic Peacekeepers were thin on the ground out there, so we could bomb whole cities into submission, load up our cargo bay with the valuables we salvaged from the smoking ruins, and then headed to the Market Zone, where nobody asked any questions. Sometimes we'd even ensl — er, wait, no, I mean, uh, we played some dumb kangaroo game, here on Earth, where I've lived my whole life, yeah, that's it."