Post Content
Family Circus, 7/7/15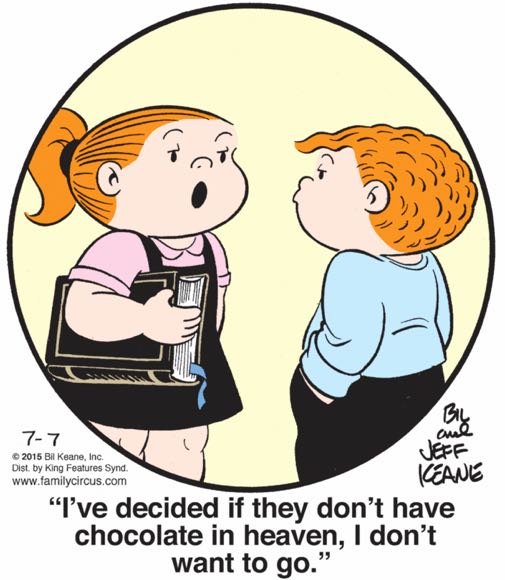 I love that Dolly has a bible tucked under her arm as she announces that she'd rather chow down on endless Clark Bars in hell than rule in heaven. The implication is that she didn't even go online to one of several convenient Bible websites to do a text search for "chocolate"; no, she read through the whole thing looking for evidence of her favorite foodstuff and failed to find it, almost as if it had been written by people who lived in the Old World in the time before the Columbian Exchange began. Mostly I'm impressed that she got through an entire book that vividly describes, among other things, gang rape, genocide, incest, and bear magic, and she decided that the absence of chocolate was the hill she was going to die on.
Funky Winkerbean, 7/7/15

I was going to go off on a rant about how dumb and unrealistic this was — did they not put down a deposit? did they not read this guy's Yelp reviews? does nobody have an iPhone's worth of music they can just put on shuffle? — but then I got distracted by that link cleverly tucked between the first and second panels. There are a bunch of Funkyverse books, guys! All published by Kent State, a public university, presumably as part of its education mission! There's one that collects the Crankshaft storylines about Alzheimer's, and it's called Roses in December: A Story of Love and Alzheimer's, even though it actually contains two distinct stories! This is the greatest discovery of my week so far!
Dennis the Menace, 7/7/15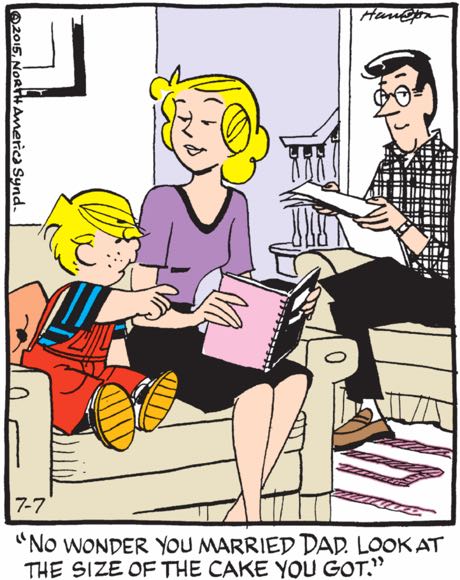 I love the knowing look Henry is flashing the reader here. "Heh heh, it wasn't a big cake that convinced her to marry me. It was something else big, if you know what I mean! I mean my penis. That something was my penis. I have a big penis."
Apartment 3-G, 7/7/15

This Apartment 3-G plot may still not make any sense, but at least we get to enjoy Margo trying and failing to coin a sassy new catchphrase. "That's a heck to the no, am I right, everybody? This is how cool people talk! Let me hear a shoutout from my fellow cool people on this!"
Momma, 7/7/15

OH MY GOD MOMMA MADE AN CULTURAL REFERENCE THAT IS ACCURATE FOR A YOUNG WOMAN MARYLOU'S AGE, MY MIND HAS EXPLODED EVERYWHERE