Post Content
Slylock Fox, 7/6/15

Are we supposed to assume that our criminal dog, fleeing Slylock and his goons, got into this room one step ahead of the law? How did that work, exactly? He leaps into the unoccupied bed, starts feverishly wrapping bandages around his face, and growls to the actual patient, "You don't say nothin', see?" Or maybe it's much more horrible: maybe he's subjected the other dog to an involuntary Face/Off-style surgery, the better to escape justice. His victim is in a morphine haze, but the criminal refused painkillers; though he's in agony, he knew he'd have to be sharp in case the cops showed up. Either way, the real tragedy is that the real patient didn't receive a fruit basket.
Spider-Man, 7/6/15

This is a good question, because let's be frank: even when he has his whole life ahead of him, caring about stuff isn't Peter Parker's strong suit.
Archie, 7/6/15

The way Veronica stares directly at the viewer in the final panel, inviting us into her world of gossip, is profoundly unsettling. "Do you miss the good old days? Sign up for an account on Gosspr, my new social app for gossip and rumors, and feel free to share what you know or have heard about your closest friends! #jointhecoversation"
Momma, 7/6/15

Ha ha, it's funny because Francis and Marylou are slowly poisoning their mother!
Pluggers, 7/6/15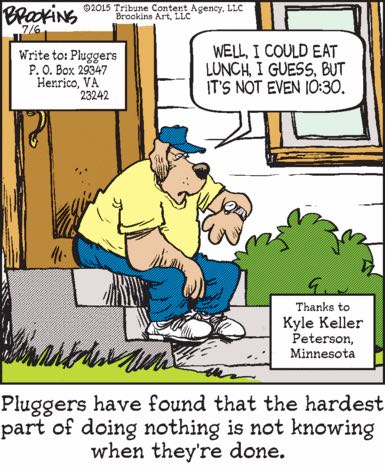 Pluggers have found that they hardest part of living is the seemingly endless slog through a meaningless existence that we have to endure until we finally feel the sweet embrace of death.