Post Content
Crock, (panels) 7/19/15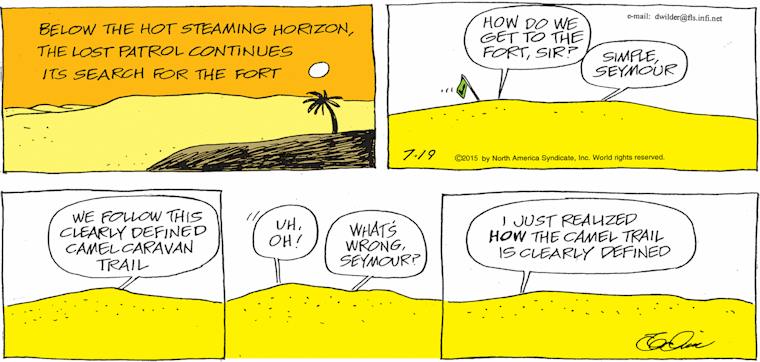 Say there, Crock Narration Box, I believe this is your very first appearance — congratulations, and welcome to the comics page! I hope you won't mind a little constructive criticism from a long-time fan of Narration-Box classics like Phantom ("In the Bandar tongue!"), Apartment 3-G ("On the street, at the Tribeca Grill or maybe in their apartment …") and — the Shakespeare of Narration Boxes — Amazing Spider-Man (Irony, anyone?"):
First, credit where credit is due! The Lost Patrol's gimmick is that they're, well, lost, so good job maintaining the "fruitless search" narrative.
You're new here, but it's "Narration Box," OK? The panel frame doesn't count — put a border around yourself, for decency's sake.
Finally show a little sympathy for your characters — when the joke is about them tripping over camel dung, "hot" and "steaming" are just twisting the knife.
Edge City, 7/19/15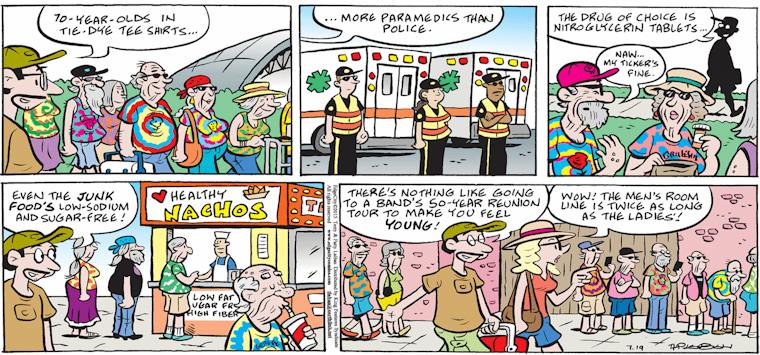 Like Hi Flagston, Greg Wilkins, Frank DeGroot, and other stuck-in-time comics Dads, Len Ardin poses as a Gen-Xer, but his choice of music outs him as a Boomer. His music and, of course, his grotesquely swollen prostate.
Crankshaft, 7/19/15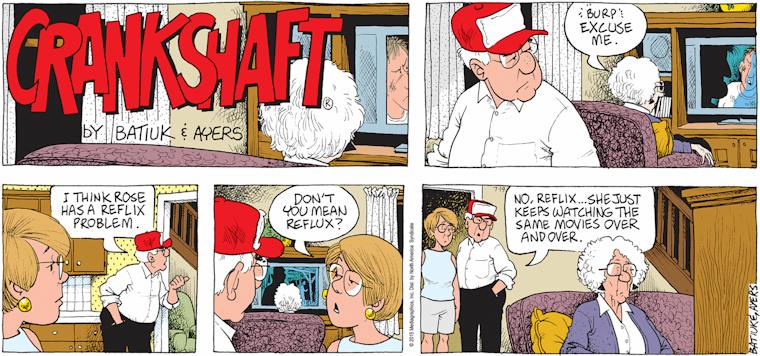 Descending into madness, billionaire Howard Hughes grew obsessed with the spy drama Ice Station Zebra, watching it over and over. Here, Rose obsessively watches two Irish guys slug it out in a coal mine, scouring every scene for hidden clues that will help her make sense of her petty, vicious, empty life. She's thaaaaat close to insight, she just knows it — but the answers just slip away every time. Of course it upsets her stomach — have a little compassion for the crazy old bat, you jerk. And take that damn hat off in the house.
---
Hi, everybody! I'm filling in until the 28th while Josh visits family and friends back East. Reach me at uncle.lumpy@comcast.net if the site gives you any trouble. Enjoy!
— Uncle Lumpy